The team of Body of Permanent Secretaries in Lagos has surrendered their football superiority to the Lagos State House of Assembly, LAHA team in the novelty match organized to commemorate the second-term inauguration of Governor Babajide Sanwoolu and his deputy, Dr. Kadri Obafemi Hamzat.
This news medium reports that the novelty match was held at the popular Campos Mini Stadium in Lagos where the Body of Permanent Secretaries team in Lagos State slugged it out with the Lagos State House of Assembly (LAHA) team. It was gathered that due to an inadequate number of players, both sides had to source for players elsewhere to raise a complete team.
In attendance were top Lagos State Government officials and political stalwarts some of which include the Chief of Staff to the Governor; Mr. Tayo Ayinde, Barrister Olayinka Oladunjoye, Lagos East APC Vice-Chairman; Hon. Abiola Olowu, Special Adviser to the Governor on Commerce, Industry and Cooperatives amongst others.
Reacting to the thrilling football match, Mr Segun Osinake, the Education District IV Tutor-General / Permanent Secretary, who captained the body of permanent secretaries in Lagos state in the novelty match described the match result as "no victory no vanquished." He added that both teams were eventually presented with a trophy and medals with the match ending 3-1 in favor of the LAHA team.
"It was an inauguration novelty match that was played at Campus Mini Stadium Yesterday, to herald the re-election of Mr.Governor, Mr Babajide Olusola Sanwo-Olu, and Deputy Governor, Dr. Kadiri Obafemi Hamat.
It was between the Body of Permanent Secretaries (PS') in Lagos State versus the Lagos State House of Assembly (LAHA). Both couldn't raise complete teams, so others joined to make it entertaining. In the end, LAHA defeated my team 3-1 and both teams were presented with a trophy and medals," he said.
The inauguration of the second term in office of Governor Babajide Sanwo-Olu comes up tomorrow, May 29th,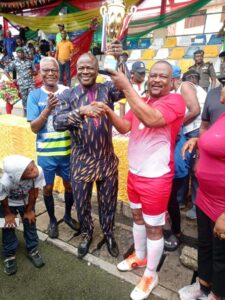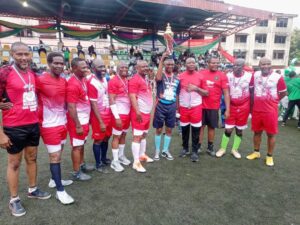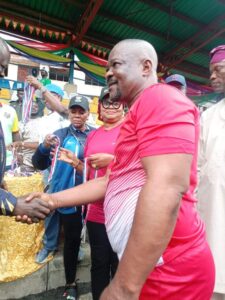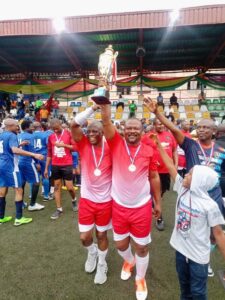 2023 at the Tafawa Balewa Square, Lagos.