The Senator representing Lagos EastSenatorial District at the National Assembly, Distinguished Senator Tokunbo Abiru FCA, has restated his commitment to transforming the lives of young people through innovative investments. This, he stated in his message on the occasion of the International Children's Day celebration.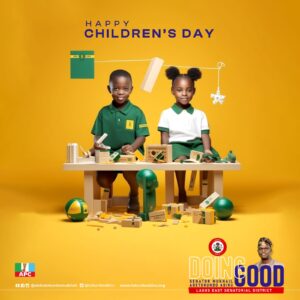 In a statement sighted by this news medium, Abiru disclosed that the theme of this year's celebration, "Investing in our future means investing in our children," resonates with his desire to prepare children and young people ahead of time, especially with the fast pace with which the globe moves in terms of technological innovations. This, he said would propel children to attain Nigeria's full potential.
"Investing in our future means investing in our children", which is the theme for the 2023 Children's Day is very apt in light of the global happenings in the current fourth Industrial Revolution age. No doubt, for our dear nation Nigeria to maximize her full potential, leaders, parents, and guardians must consciously invest in the right skills for our kids for them to be relevant in the fast-changing world. On this score, as the Senator representing Lagos East Senatorial District, I have prioritized investment in the future of our kids and young people under my endowment pillar," the statement read in part.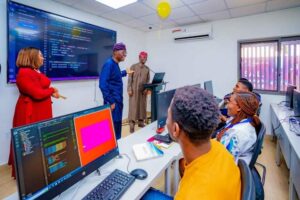 Senator Abiru disclosed that one such investment is the capital-intensive and world-class SAIL Innovation Lab which he co-founded with his visionary wife. The facility, he said, has availed many kids in public and private schools in his Senatorial district the rare opportunity to explore an advanced level of knowledge in Science, Technology, Engineering, and Mathematics (STEM) at no cost.
"We are laying a solid foundation for them to have a head start in life and contribute meaningfully to the socio-economic development of Nigeria and also make enduring impacts on the global stage.  Likewise, I have instituted a bursary scheme for brilliant but indigent higher institution students in the Lagos East Senatorial district. At the launch of the maiden edition, 600 of our children across the 16 LGs/LCDAs in the district benefited from the scheme. These and many more are the modest interventions we are making to create a better future for our children and by extension our dear country," the statement read.
Basking in the euphoria of the momentous day, Senator Abiru admonished the kids to remain resilient and focused, stressing the need to leverage the power of internet technology to harness vast resources for human capital development. This, he believes would entrench a bright future.