Step into a world where artistry meets functionality, where innovation takes shape amidst the embrace of nature's bounty. Introducing our extraordinary Sadioluwa Gardens, a gateway to a realm where stunning edifices seamlessly blend cutting-edge architectural design with the enchantment of a developing locality off WASTAB road, Odomola, Epe, Lagos State.
Situated along the smooth Epe/Ijebu-Odo Expressway, the mini luxury estate is surrounded by various social and public facilities which include Lagos State University Epe Campus, Atlantic Hall Poka, Augustine University Ilara, Lagos State University of Education Noforija, Pobo Market, exquisite hotels and bars, hospitals and health centers and others.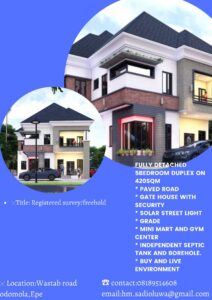 Unlock the secret to owning your very own masterpiece, a mini luxurious estate meticulously crafted to transcend time and elevate your lifestyle to new heights. Immerse yourself in the captivating experience of architectural wonder as we unravel the grand aesthetics behind these magnificent structures that grace our thriving locale.
Prepare to be mesmerized by the harmonious fusion of form and function, where every line, curve, and detail exudes an aura of elegance and sophistication. From sleek modern marvels to captivating traditional gems, we showcase the diverse tapestry of architectural excellence that awaits your discerning eye.
Join us on this captivating journey, where each blog post breathes life into the captivating stories of these beautiful edifices. Delve into the artistic mind of a visionary architect and witness the transformative power he wields in shaping our surroundings.
Coming with a two-way ownership offer, Sadioluwa Gardens presents prospective clients with an Offplan package with an initial deposit of 50% payment while the remaining balance is spread across 6 months. However, a certain percentage will be accrued to an extension of the 6 months repayment plan.
As regards the Onplan package, clients interested in this mouthwatering deal will pay King's Wing 70 million naira with a reasonably reviewed service charge. The luxurious mini estate comes in a fully-detached 5-bedroom duplex and a 4-bedroom duplex on 420 square miles with paved road, secured gatehouse, solar street light, and grade. Other facilities include a mini-mart and gym center, independent septic tank and borehole, and buy and live environment with registered survey/freehold.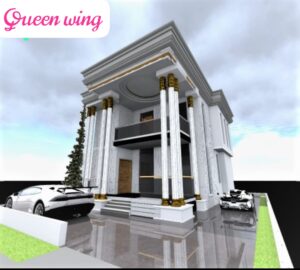 Don't miss your chance to own a piece of architectural artistry in a burgeoning community. Immerse yourself in the allure of these stunning creations and pave the way to a future where aesthetics and functionality coexist in perfect harmony.
Elevate your living experience, embrace the allure of exceptional design, and embark on a captivating adventure through our mini estate. Unveil the extraordinary possibilities that await you in this developing locality – a realm where dreams take shape, and the beauty of architecture finds its true home.
For inquiries, contact 0818 951 4608 0r send an email to sadioluwa@gmail.com