Lagos State Governor, Babajide Sanwo-Olu, has showered encomiums on his predecessor, Akinwunmi Ambode, on the occasion of his 60th birthday.
Sanwoolu described Ambode as a visionary and audacious leader who made remarkable impacts across the state during his tenure.
Kakalistiq Media reports that via his Facebook page, Sanwoolu said Ambode's achievements in various sectors such as infrastructure, transportation, health, education, security, and social welfare were commendable and worthy of emulation.
He also said Ambode's courage and compassion in serving the people of Lagos State demonstrated his commitment to the development of the state.
Mr. Incident Commander added that he was proud to have worked with Ambode as a cabinet member and later succeeded him as governor.
He expressed his appreciation to Ambode for his support and cooperation during the transition period and thereafter. He said he did not doubt that Ambode would continue to contribute to the progress of Lagos State and Nigeria in general.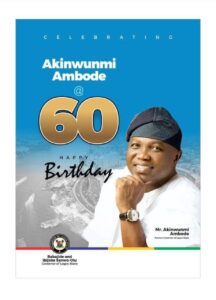 "On behalf of my dear wife, Ibijoke, the government, and good people of Lagos State, I join family, friends, and political associates of my predecessor, former Governor Akinwunmi Ambode to congratulate him on his 60th birthday.
"Mr. Akinwunmi Ambode dedicated his young and adult life to the service of Lagos State, first as a civil servant and later as the 14th Governor of our dear State.
"As Council Treasurer, Auditor General for Local Government, Permanent Secretary, Ministry of Finance, and Accountant-General of Lagos State, he displayed a high level of integrity, dedication, and professionalism to service in the public sector.
"He recorded same achievements as Permanent Secretary in the Ministry of Finance and as the State's Accountant General.
"He also made positive and significant impacts in some sectors during his tenure as Lagos State Governor, working for the continuous growth and development of our State.
"I wish His Excellency, former Governor Akinwunmi Ambode a happy birthday and pray that he witnesses many more fruitful years in good health. Amen