Today June 14, 2023, we celebrate the 60th birthday of one of Lagos's most remarkable leaders, Mr. Akinwunmi Ambode, who served as the governor from 2015 to 2019. Despite facing many challenges and controversies during his tenure, Ambode left a lasting legacy of infrastructural and social development in the state, especially in his hometown of Epe.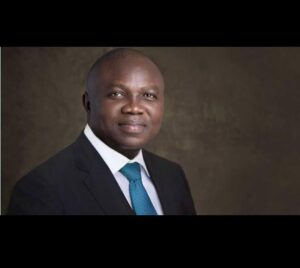 From Epe to Excellence
Ambode was born in Epe, a coastal town in the eastern part of Lagos State, to a teacher father and a trader mother. He attended Federal Government College Warri, where he excelled in cricket as a bowler. He later studied Accounting at the University of Lagos and joined the civil service in 1988. He rose through the ranks to become the Accountant-General of Lagos State in 2006, overseeing the state's finances and budget.
In 2014, he resigned from the civil service and contested for the governorship under the All Progressives Congress (APC). He won the election with a landslide victory over his main rival, Jimi Agbaje of the People's Democratic Party (PDP). He became the 14th governor of Lagos State on May 29, 2015.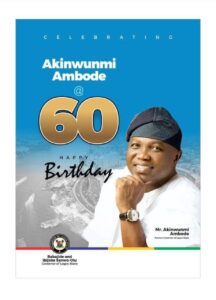 A Visionary Leader
Ambode had a clear vision for Lagos State: to make it a smart city that is safe, clean, prosperous, and inclusive. He embarked on several ambitious projects across the state, such as:
– The Ikeja Bus Terminal, Oshodi Transport Interchange, and Ojodu Berger Bus Terminal, which improved public transportation and reduced traffic congestion.
– The Light Up Lagos Project, which installed street lights in over 360 roads and communities, enhancing security and aesthetics.
– The Abule Egba and Ajah Jubilee Flyovers, which eased vehicular movement and reduced travel time.
– The Alaro City Project, which created a new industrial and residential hub in Epe, attracting local and foreign investors.
– The Ayinke House Project, which renovated and upgraded the Institute of Maternal and Child Health to a world-class facility with modern equipment and services.
– The CodeLagos Project, which trained over one million students and teachers in coding and digital skills, preparing them for the future of work.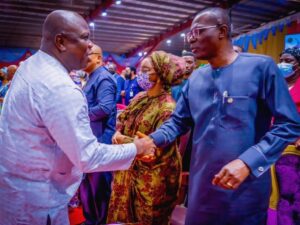 Ambode also invested in education, health, environment, tourism, sports, culture, and social welfare. He initiated the Employment Trust Fund, which provided loans and grants to entrepreneurs and artisans. He launched the Cleaner Lagos Initiative, which revamped the waste management system and employed thousands of street sweepers. He supported the arts and entertainment industry by hosting various festivals and events, such as One Lagos Fiesta, Lagos City Marathon, Lagos International Jazz Festival, and Lagos @ 50 Celebration.
A Man of the People
Ambode was not only a visionary leader but also a man of the people. He was loved and respected by many Lagosians for his humility, generosity, and accessibility. He often visited different communities and interacted with residents, listening to their needs and addressing their challenges, a rare leadership trait that Epe residents can attest to especially during festivities.  He also empowered various groups and associations with financial and material support.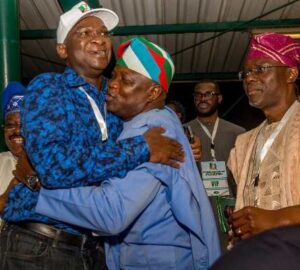 One of his most loyal supporters was his hometown of Epe. Ambode transformed Epe with unprecedented infrastructural development, such as road construction, drainage system, health center, and proposed markets of international standard. He also boosted the local economy by attracting investors and tourists to Epe. His townspeople were so grateful that they named a major road after him: Governor's Road, Agric, Epe.
Epe also stood by Ambode during his difficult times. In 2019, Ambode faced opposition from some APC leaders who denied him a second term ticket. He accepted the decision peacefully but remained popular among his supporters. In August 2019, when some officials of the Economic and Financial Crimes Commission (EFCC) raided his home in Epe over alleged corruption charges, his townspeople resisted them and defended him. They chanted slogans like "Ambode is our son", "Ambode is innocent" and "Leave Ambode alone".
A Silent Hero
Since leaving office in 2019, Ambode has maintained a low profile. He has not joined any political party or contest for any elective position and this has largely impacted his political base. He has also not granted any media interviews or issued any public statements. He has chosen to remain silent and focus on his personal life.
However, his silence does not mean he has abandoned his passion for service. He has continued to support various causes and initiatives that promote development and welfare in Lagos State and beyond. He has also maintained cordial relationships with his successors and other political leaders.
As he marks his diamond jubilee today, Ambode deserves to be celebrated as a trailblazing governor who made a difference in Lagos State, Epe in particular. He may not have been perfect, but he was sincere, courageous, and impactful. He may not have been loud, but he was effective, innovative, and visionary. He may not have been popular, but he was respected, admired, and loved.
Happy birthday, Mr. Akinwunmi Ambode. You are a diamond in the rough.