Senator Tokunbo Abiru, a member of the National Assembly from the Lagos East Senatorial District, has expressed his sincere congratulations to Rt. Hon. Femi Gbajabiamila, Speaker of the Federal House of Representatives, on his illustrious appointment as the Chief of Staff to Nigeria's President, His Excellency Asiwaju Bola Ahmed Tinubu GCFR.
President Bola Tinubu had on Friday, June 2nd made the announcement at the StateHouse, Abuja, laying to rest the anxiety surrounding the rumored appointment a day earlier.
Senator Abiru, the Chairman of the Senate Committee on Industries at the National Assembly conveyed his congratulatory message via a statement made available to Kakalistiq media on Saturday 4th June, 2023.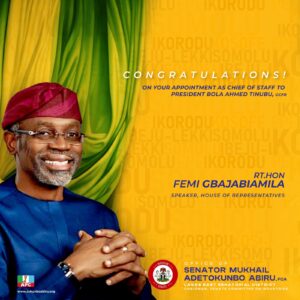 In the statement, the Lawmaker referred to President Tinubu's choice of the brilliant Gbajabiamila as an impeccable testimonial to the Speaker's phenomenal leadership capacity, exposure, and experience at home and abroad.
The enormous achievement, he said, was made possible by his abundance of knowledge as a seasoned lawyer with international exposure and his outstanding successes as an intelligent lawmaker.
He averred that throughout over two decades in the Green Chamber, he has proven to be extremely competent and committed in his support of the progressive movement. He added that many Nigerians admire and appreciate him for the effective leadership he has demonstrated in his role as Speaker of the House of Representatives.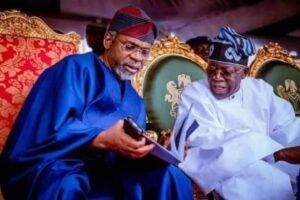 "On behalf of my family and the entire people of the Lagos East Senatorial District, I heartily congratulate my dear friend and brother, the highly cerebral Speaker of the House of Representatives, Rt. Hon. Olufemi Hakeem Gbajabiamila, on your appointment as the Chief of Staff to His Excellency, President Bola Ahmed Tinubu, (GCFR).
"This appointment is a testament to your great capacity, Mr. Speaker, particularly in the area of managing tendencies and interests across political, social, and religious divides.
"Your wealth of experience as a seasoned legal practitioner with global exposure, as well as your sterling accomplishments as an erudite legislator, have undoubtedly contributed to this great feat.
"For two decades in the Green Chamber, you have demonstrated great competence and remained steadfast in your loyalty to the progressive cause. Your effective leadership as the Speaker of the House of Representatives has earned the admiration and respect of many Nigerians.
"You will always be remembered for championing people-oriented legislations and motions aimed at promoting the development of our dear nation, Nigeria.
"Mr. Speaker, it is my pleasure to join your family, friends, associates, and numerous well-wishers in celebrating with you.
"Once again, I congratulate you on your well-deserved appointment and wish you the very best in your new role," the statement read.