In a heartfelt display of camaraderie within the hallowed halls of the legislature, the Senator representing Lagos East Senatorial District at the National Assembly, Senator Tokunbo Abiru, and his adorable wife, Mrs. Feyisola Abiru, have extended warm birthday greetings to a "dear brother" and distinguished colleague, Rep. Bayo Balogun.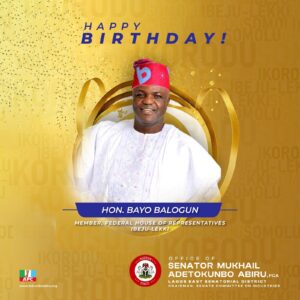 In a statement signed by the Senator, the congratulatory message highlights the bond forged through shared legislative endeavors, where policies are crafted and destinies are shaped. Amidst the fierce debates and impassioned advocacy, these lawmakers have no doubt stood side by side, championing the causes of their constituents and striving for the progress of the nation.
Kakalistiq media reports that the message which commemorates the birth anniversary of the member representing Ibeju-Lekki Federal Constituency at the Federal House of Representatives captures his dedication to public service and the commitment to the well-being of the people which has solidified a bond that transcends political differences.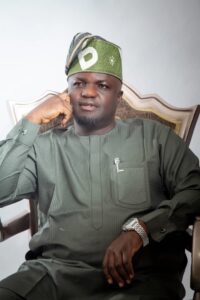 "Happy Birthday, Hon Bayo Balogun. I rejoice with Hon Bayo Balogun, Honourable member, House of Representatives (Ibeju-Lekki Federal Constituency), on the celebration of his birthday.
"We celebrate your outstanding service to the people and our great party, APC. You are well appreciated my dear brother. I wish you many more returns of the day in sound health and prosperity. Congratulations!" the statement read.