In a groundbreaking move for Epe residents, Kakalistiq.com reports that TAL Meats/MOT Abattoir emerges as the first and only state-licensed semi-mechanized abattoir in the town, revolutionizing hygienic slaughter options for beef, ram, goat, and lamb.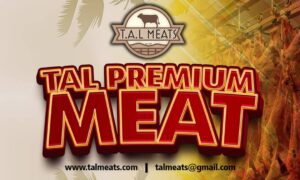 Situated in the heart of Odo-Egiri via the Epe-Ijebuode expressway, Epe, TAL Meats/MOT Abattoir places a strong emphasis on meat hygiene standards, ensuring access to top-quality and halal meat products for the community. Whether for individual needs, hotels, schools, eateries, restaurants, or events, the abattoir caters to both small and bulk orders.
The management at TAL Meats/MOT Abattoir declares, "Satisfying your meat hygiene standards is our priority."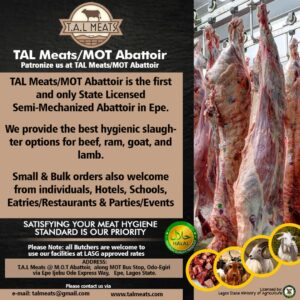 In a bid to serve the diverse needs of the community, TAL Meats/MOT Abattoir extends a warm invitation to all butchers, welcoming them to utilize their facilities at Lagos State Government-approved rates, fostering a collaborative environment.
For inquiries, orders, and bookings, contact TAL Meats/MOT Abattoir at 0802 336 3602 or via email at talmeats@gmail.com or www.talmeats.com.
Conveniently located at TA.L. Meats @ M.O.T. Abattoir, along MOT Bus Stop, Odo-Egiri via Epe Ijebu Ode Express Way, Epe, Lagos State, the abattoir invites residents to experience the pinnacle of meat hygiene standards.
Choose TAL Meats/MOT Abattoir for all your meat needs, where quality is a commitment and satisfaction is guaranteed.