In response to mounting concerns over allegations of ethnicity, favoritism, and tribalism within the Joint Task Force (JTF) operating on the Lekki – Epe Expressway, kakalistiq.com reports that Hon. Abdullahi Sesan Olowa, Chairman of Ibeju-Lekki Local Government, has taken a proactive stance. He addressed the matter head-on while emphasizing the commitment of his administration to ensuring safety, order, and fair enforcement in the LG.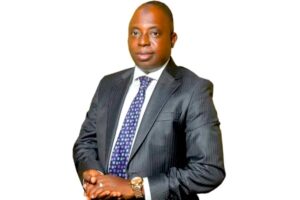 The JTF, a multi-agency team comprising members from organizations such as Lagos State Traffic Management Authority (LASTMA), Nigerian Police, Kick Against Indiscipline (KAI), Lagos State Neighborhood Security Corps (LNSC), Ibeju-Lekki Local Council (ILLC), and Federal Road Safety Corps (FRSC), was established to tackle various traffic challenges along the critical Lekki – Epe Expressway. Their directives include eliminating reckless driving, preventing illegal parking on the road, and removing encroachments stemming from unauthorized activities such as trading and vehicle repairs.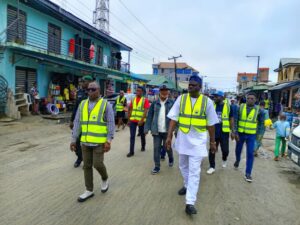 Hon. Abdullahi Sesan Olowa's response to these concerns was rooted in the broader context of recent accidents that have resulted in the loss of lives, extensive traffic congestion, and environmental disruptions along the highway. These incidents drew widespread condemnation, capturing the attention of local and state government authorities.
Recognizing the gravity of the situation, he noted that the local government has embarked on a mission to address road-related challenges and restore order, adding that it has engaged in active communication with the public through various platforms, seeking feedback from citizens and working to raise awareness.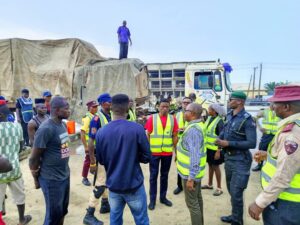 To translate words into action, Chairman Olowa personally led the JTF team on an extensive operation spanning from Desa to Awoyaya on October 17, 2023. The operation lasted nearly five hours and sought to curtail road recklessness, clear roadways, and address illegal encroachments.
During the operation, various offenders, including traders, artisans, and individuals who had converted walkways into business premises, were cautioned. Vehicles that were improperly parked or abandoned were addressed, and those in unfit conditions for road use had their number plates removed. Vehicles driving against traffic were apprehended and towed to the local council.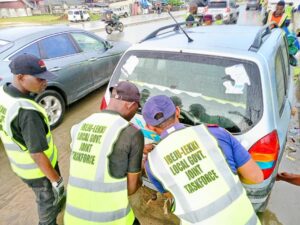 Chairman Olowa stressed that the operation was conducted without regard to ethnicity, highlighting the importance of shared values such as unity, equality, and responsibility in advancing Ibeju Lekki's development as the emerging economic hub of Lagos.
Responding to complaints from some residents, preliminary investigations did not support allegations of favoritism or tribalism within the enforcement team. Chairman Olowa reiterated that such biases have no place in the operations of a democratic government.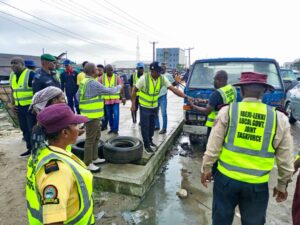 Individuals whose number plates were removed can retrieve them after paying fines of N10,000 to the local government treasury. Citizens with evidence of JTF members engaging in questionable conduct were encouraged to submit their complaints to the chairman's office with the assurance that their concerns would be addressed fairly and expeditiously.
Chairman Olowa reaffirmed the commitment to ending recklessness and maintaining law and order while emphasizing the administration's dedication to achieving these objectives without infringing upon the rights of citizens. This proactive response aims to ensure transparency, fairness, and a safer environment for all residents.