In a remarkable celebration of academic excellence, Kakalistiq.com reports that Miss Kehinde Ogunbanwo, a standout student from the Department of Computer Science, has achieved the prestigious title of the 2023 Overall Best Graduating Student at Augustine University. With an outstanding cumulative grade point average (CGPA) of 4.86, she has set a new standard for academic achievement at the institution.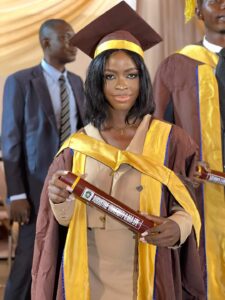 Miss Ogunbanwo's extraordinary journey is not only a testament to her diligence and dedication but also serves as an inspirational story for aspiring scholars. Her impressive accomplishments have garnered her well-deserved recognition as a shining star in the academic world.
In her own words, Miss Ogunbanwo reflects on her transformative journey at Augustine University: "My journey at Augustine University has been challenging yet worthwhile. Being here has taught me to be diligent, hardworking, and time-conscious. Achieving this honor means a lot to me because this has always been my dream. My dreams and goals kept me motivated throughout my journey."
Despite facing academic obstacles, including a demanding study schedule and minimal preparation time for exams, Miss Ogunbanwo overcame these challenges with unwavering determination and late-night study sessions. She also attributes her success to the support of good friends who stood by her side during the tough times.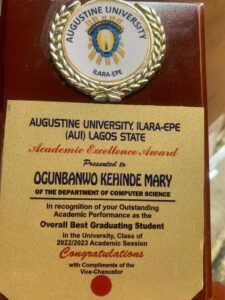 Beyond excelling in academics, Miss Ogunbanwo actively participated in various extracurricular activities, including the choir, the Legion of Mary, and the Board of Lectors. Her involvement in these groups allowed her to develop self-confidence and invaluable skills in teamwork, communication, and leadership.
One moment that significantly impacted her life was witnessing her fellow students receive awards for their academic achievements during matriculation. This experience served as a driving force behind her commitment to academic excellence. She expressed gratitude for consistently receiving awards at every matriculation ceremony until her graduation.
Balancing academic excellence with her social life was a manageable task for Miss Ogunbanwo, thanks to her determination and involvement in various activities like sports and the choir. Her commitment to a well-rounded life enriched her academic journey.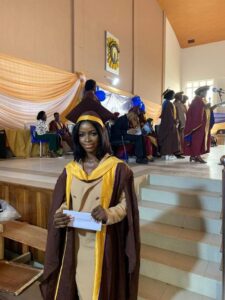 Looking ahead, Miss Ogunbanwo aspires to pursue a master's degree in artificial intelligence, building on the strong foundation she acquired in computer science. She is currently exploring data science, graphic design, and web design, constantly striving to enhance her skills in these areas.
Offering advice to her peers and future students, Miss Ogunbanwo emphasized the importance of determination, hard work, and perseverance in the pursuit of success. She believes that her achievements can positively impact her community, inspiring others to realize that hard work, self-belief, and faith can lead to limitless opportunities.
Miss Ogunbanwo expressed her gratitude to her fellow graduates and the entire Augustine University community for their support and contribution to her memorable educational journey. As they embark on their respective paths, she encourages her fellow graduates to become the best versions of themselves, setting their sights on reaching the pinnacle of their potential. Miss Ogunbanwo's story stands as a beacon of inspiration for all who aspire to achieve academic excellence.