Iconic Argentine attacker, Lionel Messi, will soon declare his future as his time at Paris Saint-Germain comes to an end, but dreams of a sensational comeback to Barcelona are dwindling.
Barcelona's grandest superstar and all-time leading goal scorer Messi, who turns 36 in June, was forced to bid a sorrowful farewell in 2021 when his contract came to an end since the team could not afford to keep him.
The World Cup winner has been strongly encouraged to return by coach Xavi Hernandez, but Messi's team has informed Spanish media that no offer from Barcelona has yet materialized.
"For me, there is no question that Messi will help us on a footballing level if he comes back," Xavi told the Spanish newspaper Diario Sport.
Barcelona is holding off on making any acquisitions during the summer transfer season unless La Liga has approved a financial viability plan.
Javier Tebas, president of La Liga, stated in April that Messi's return to Barcelona "seems difficult at the moment."
"Barca are not like PSG, who have a fuel tap and money for a big salary," the statement continued.
Due to the club's debts, La Liga's financial fair play regulations presently only allow Barcelona to spend 40% of any money saved through wage reductions or player sales.
What they could offer Messi would be limited, even if they were to generate enough additional revenue to release themselves from the league's financial restraints.
In comparison, Messi will receive a king's ransom in other places, amounting to hundreds of millions of dollars.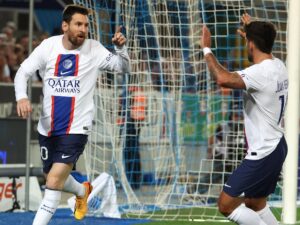 The forward has an agreement to join his former Real Madrid rival Cristiano Ronaldo in the Gulf state's Saudi Arabian division, a person close to the transaction informed AFP in May.
Many Barcelona supporters, including coach Xavi, would like Messi to conclude the tale that has been left unfinished by his unexpected departure.
The attacker arrived at Barcelona when he was 13 years old and left without giving fans, who were still barred from stadiums due to the epidemic at the time, a decent farewell.
When motivated, Messi shown that he is still capable of delivering at the highest level by leading Argentina to World Cup victory in Qatar.
The forward, who is favored to win the Ballon d'Or, continues to excel at penetrating resolute defenses, a skill that Barcelona has battled with even as they've won La Liga this season.
Even though his return would be expensive in terms of salary and come without a transfer fee, it can still be a decent deal for a team that is focused on immediate success.
It's a good thing that Messi is "reclaiming" his legacy by completing his career with the team where he spent two decades.
It may be alluring to imagine a fairytale comeback and the opportunity to formally close a wonderful chapter in the club's past, but with Barcelona moving forward and undergoing change, it may not be the best move for the team or the player to go backwards.
Some others think Barca shouldn't spend a large portion of their limited financial resources on an aging great when the team clearly has to get better in other aspects.
The key to any success next season, according to Xavi, is finding a replacement for experienced holding midfielder Sergio Busquets, who is leaving.
In addition, Barcelona requires a left winger, a backup striker for Robert Lewandowski, and a first-choice right defender.
Some supporters fear that Messi's return would damage his stellar reputation at Barcelona and hinder the team's development at the same time.
Messi might believe that by going back to Barcelona, he stands to lose more than gain in terms of his legacy.
On Saturday, Ligue 1 winners PSG will play host to Clermont in what will be their final game of the year. Following that, Messi's future will likely take center stage.