In an evening that radiated warmth, unity, and philanthropic spirit, kakalistiq.com reports that the Publisher of Eko Hot Blog, Otunba TJ Abass, was celebrated with an Award of Outstanding Service by the esteemed Rotary Club of Gbagada. The accolade, which is a testament to the transformative power of altruism, was bestowed on him during the induction of Rotarian Olubunmi Oguntade as the 40th president of the club.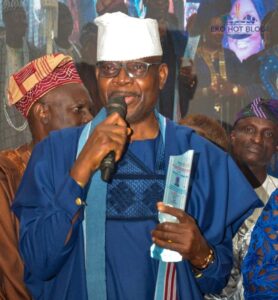 With a heart brimming with gratitude and a soul drenched in humility, Otunba TJ Abass extended his heartfelt appreciation to the families, friends, and well-wishers who trooped out to support him during this significant milestone. The event, which took place on Sunday, 1st October 2023 at Greetings Hall, Yoruba Tennis Club, Onikan, Lagos, showcased the unwavering support he has received from a community that believes in the profound impact of his philanthropic endeavors.
For Otunba Abass, the award symbolizes much more than personal recognition; it represents a triumph over trials and a remarkable journey from humble beginnings. Born into a household where resources were scarce and dreams were fragile, he noted in his thank-you message that he embarked on a life's mission to rewrite the narrative, stressing that countless of his well-wishers have been a vital part of this inspiring journey.
As Otunba Abass stood at the Rotary Club of Gbagada, clutching the gleaming award plaque, he noted that he couldn't help but see it as a shared victory. He particularly stressed that "It's a tribute to the unwavering spirit of the Rotary Club of Gbagada, which embodies unity and benevolence." Every accolade and award, he emphasized, is not merely a reflection of individual effort but a manifestation of the collective support and encouragement received from those who believe in their (Rotary Club of Gbagada) shared vision.
In his heartfelt message, Otunba Abass acknowledged the vital role played by the community that has supported him in his quest to make a difference. He expressed his gratitude by stating, "Your support served as the nourishing soil beneath my feet, allowing me to stand tall as I received the award of outstanding service on Sunday, 1st October 2023."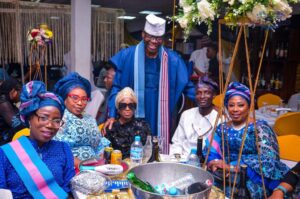 There is no doubt that the award is a reflection of the impact of his philanthropic gestures and community development initiatives, which have reached far beyond the boundaries of Epe Division, Lagos State, and even Nigeria. His dedication and unwavering commitment to serving humanity have left an indelible mark on the lives of countless individuals and communities.
With profound appreciation, Otunba TJ Abass extended his thanks to every member of the Rotary Club of Gbagada and all who have supported his mission. His message resonates not only with his local community but with all those who believe in the power of philanthropy and its ability to create lasting change.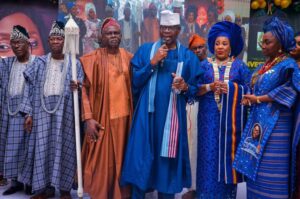 Otunba Abass's journey from humble beginnings to receiving the Lifetime Achievement Award is a story of inspiration, determination, and the enduring impact of giving back to society. His philanthropic legacy continues to shine brightly, illuminating a path for others to follow in his footsteps.
Hearty congratulations, from all of us at kakalistiq.com, sir!