In a proactive move aimed at ensuring road safety during the upcoming festive period, kakalistiq.com reports that Hon. Abdullahi Sesan Olowa, the Council Chairman of Ibeju Lekki Local Government, officially launched the "2023 Ember Months Campaign" on Thursday, October 12, 2023.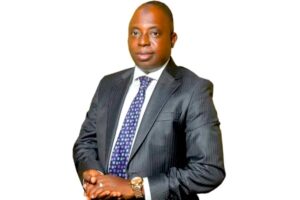 This annual initiative, organized by the Federal Road Safety Corps (FRSC), serves as a critical reminder for road users to exercise vigilance, especially during the festive season, as statistics have consistently shown that a significant number of accidents occur between September and December.
The significance of this campaign lies in its mission to raise awareness about the potential risks associated with increased human and vehicular movement during the ember months, which is compounded by the concurrent festive seasons, prompting more people to travel to reunite with friends and family. While these reunions are eagerly anticipated, they also bring a surge in road traffic crashes, making road safety initiatives, like the one recently launched in Ibeju Lekki, paramount.
During the event, Hon. Olowa acknowledged the heightened activity in Ibeju Lekki, particularly along the Eleko corridor, as it serves as a vital link to the Lekki Free Zone. He took the opportunity to remind all road users of the necessity for caution while navigating the road network during this period. "The responsibility for safe travel falls on every individual, making adherence to traffic rules and regulations a communal obligation," he emphasized.
Assistant Corp Commander Abdulrazaq Abayomi, the Unit Commander of FRSC RS111, Ibeju Lekki Unit Command, echoed these sentiments in his address. He drew attention to the fact that the ember months bring not only increased travel but also, regrettably, a rise in road traffic crashes. Abayomi explained that this surge in accidents can be attributed to the overlapping of the ember months with festive seasons when people are more inclined to embark on journeys to visit their friends and loved ones.
As part of the launch event, Hon. Abdullahi Sesan Olowa, accompanied by Oba Muyideen Adebowale Balogun, the Onisolu of Solu Alade, embarked on a townwide campaign to distribute flyers that sensitize residents and road users on responsible road usage. This exercise emphasized the council's commitment to enhancing public safety and promoting road awareness within the community.
Present at the event were various dignitaries and community representatives, including the Supervisor for Health, Hon. Tajudeen Oniwonlu; Supervisor for Budget, Hon. Akeem Oluwole; S.A. on Agriculture, Hon. Edalere Olusola; S.A. on Civic Engagement, Hon. Wakilat Odupe; DPO Akodo Division, CSP Thomas Orire; and Sector Commander, represented by the Area Commander, Deputy Corp Commander Joshua Ibitomi. Additionally, Unit Commanders from Lekki, Epe, and the Refinery axis lent their support to the critical initiative, collectively demonstrating their commitment to road safety and the well-being of the community.