The duo of former flying Eagles players, despite the optimism of winning, have cautioned the Ladan Bosso-led team to be wary of threats from the Argentines. Lukman Haruna and Ramon Azeez were of the strong belief that the Flying Eagles has a chance to shock Argentina on Wednesday.
The Nigerian team came third in Group D after losing 2-0 to Brazil in their final match. The pair, who both competed at the U-20 World Cup in 2009 and 2011, stressed the importance of the Flying Eagles coming into this match properly prepared.
After crushing New Zealand 5-0 in their final match, the young Albiceleste have been superb throughout the competition, scoring a total of 10 goals and collecting all four points to lead their group. They had previously defeated Guatemala 3-0 and Uzbekistan 2-1.
Former Almeria midfielder Azeez claimed, "They showed Brazil too much respect at the start of their game against Brazil, which cost them the game," before Wednesday's match. It will be extremely difficult to beat Argentina because they have talented and seasoned players.
"If we let them play, they have a solid midfield that can cause us problems. If they come up with a strategy to stop people like Maximo Perrone, Valentin Carboni, and Federico Redondo, I think we can prevail. We have a solid chance of winning and moving on to the quarterfinals," he said.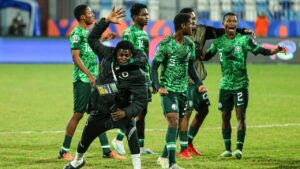 According to Haruna, for Bosso's team to have a chance against the Argentines, they must be aggressive and proficient like they were against the Italians.
"They (Argentina) have two of the most intriguing young midfielders in the competition in Perrone and Carboni, and they are supposed to do well since they are the hosts, but tactically, if we are aggressive and use our chances, we can beat them. I am extremely familiar with Bosso; he will definitely have a strategy for victory, but it won't be easy," he said.
Coach Javier Mascherano of Argentina says his team will be well-prepared to face the Flying Eagles. Mascherano stated to Mundo Albiceleste, "We know the opponents now and we will calmly prepare for Wednesday's match."
"We already achieved our goal of winning the three games. The most important thing is to take some time to relax.