The Lagos East Vice-Chairman of the All Progressive Congress, APC, Barrister Olayinka Oladunjoye has congratulated the duo of His Excellency, President Bola Ahmed Tinubu GCFR, and the Governor of the Centre of Excellence, His Excellency Governor Babajide Sanwo-Olu in commemoration of their glorious inauguration as Nigeria President and Lagos State Governor respectively.
Speaking with Kakalistiq Media in a chat, Barrister Oladunjoye praised the fascinating desire of the national leader of the APC to put the nation back on track through numerous and strategic socio-economically viable programs for Nigerians.
She was certain that the nation would experience astronomical transformation and she anticipates its quick manifestation on the citizens of the country.
"On this momentous occasion of your inauguration as the President, I extend my heartfelt congratulations to you, an exceptional leader with an unwavering determination to steer our nation towards a path of progress across all facets of governance.
"Your remarkable resolve and commitment to revitalizing our country in every sector have not only inspired me as an influential female political party stalwart but also instilled hope and optimism in countless citizens.
"With your visionary leadership, I am confident that our nation will flourish under your guidance, and I eagerly anticipate witnessing the positive transformation you will bring about for the betterment of all."
In the same vein, she equally praised the re-election of the Lagos State Governor, who is being inaugurated the same day as the president. Barr. Oladunjoye, the Vice-Chairman of the Lagos State Inauguration Committee felicitated the iconic "Mr Incident Commander," Governor Babajide Sanwoolu.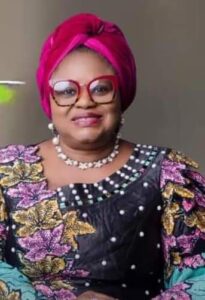 Barrister Oladunjoye, a former Education Commissioner and Commissioner for Commerce, Industry, and Cooperatives, acknowledged the opportunity to serve the party at a top level and pledged her unflinching support toward the success of the Governor's administration in the next four years.
"Mr. Governor, on your glorious inauguration as the Governor of our cosmopolitan city for another term of four years, I extend my warmest congratulations to you. You have been a phenomenal pathfinder whose commitment to consolidating on the significant achievements made during your first term is unparalleled. Your clear vision to elevate the standards of governance across all sectors is commendable.
"Your strong resolve to raise the bar and enhance the lives of our diverse Lagosians is truly inspiring, and as a party stalwart, I am honored to stand alongside you in this journey. With your visionary leadership, I am confident that our city will continue to flourish, thriving as a beacon of progress and inclusivity. I eagerly look forward to witnessing the remarkable strides you will make in the years ahead," she stated.