…Acting Area Commander and Council Chairman Meet to Address Drug Abuse and Trafficking.
In a resolute effort to combat the scourge of drug abuse and trafficking, Kakalistiq.com reports that officers and men of the National Drug Law Enforcement Agency (NDLEA) led by the acting Area Commander, Mr. John Achema, paid a significant courtesy visit to the Council Chairman of Ibeju Lekki Local Government, Hon. Abdullahi Sesan Olowa on Tuesday, November 7, 2023.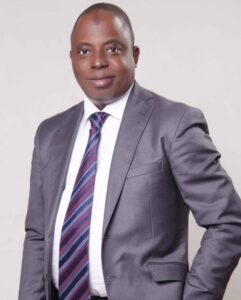 The gathering stood as a pivotal stage for both parties to delve into strategies for enlightening the youth on the perils of drug misuse and trafficking. Yet, it held a more profound significance—a symbolic pact to champion the anti-drug abuse campaign, exemplified as the Chairman was ceremonially draped in the emblematic NDLEA shirt and crest. The menace of drug use and trading, with its alarming consequences, has posed a severe threat to the health, well-being, and productivity of the young population.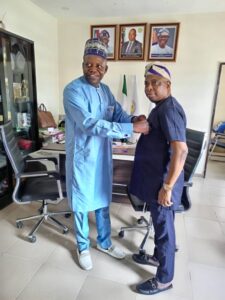 Chairman Olowa emphasized his unwavering commitment to combat this pressing challenge. In his remarks, he stated, "We cannot afford to overlook the critical issue of drug abuse and trafficking, which has grave implications for our youth and society at large. We must work together to ensure a safer and more drug-free environment for our residents."
Acting Area Commander Mr. John Achema also expressed his intentions for the visit, emphasizing the importance of collaborating with local authorities to create a drug-free society. He stated, "Our purpose is to partner with the local government to educate and protect our community from the dangers of drug abuse and trafficking. Together, we can build a safer and healthier society."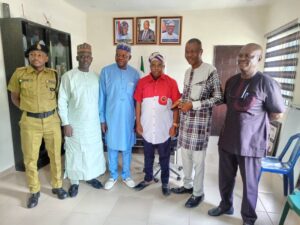 The partnership between NDLEA and Ibeju Lekki Local Government underscores the collective resolve to address the drug menace and safeguard the well-being of the community. This collaboration is a significant step towards creating awareness, providing support to those affected by drug-related issues, and ensuring a brighter future for the youth.