In a heartwarming display of compassion and community support, Kakalistiq.com reports that Senator Mukhail Adetokunbo Abiru, Chairman of the Senate Committee on Banking, Insurance, and other Financial Institutions, distributed more than 6,000 Food Packs to vulnerable constituents in the Lagos East Senatorial District.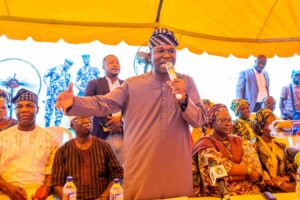 The Senator, who has gained recognition as the #DoingGood Senator, initiated the quarterly Food Packs Programme in June 2023. This second edition of the program, which was held today 30th September 2023 at the Senatorial District office in Ikorodu aims to provide assistance to those most in need, including widows, unemployed youth, the elderly, women, and people living with disabilities across the 98 wards within the 16 Local Government Areas and Local Council Development areas of the district.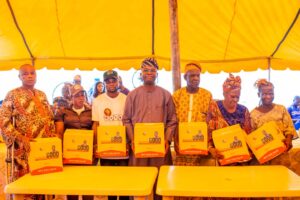 Constituents turned out in large numbers to collection points in Ikorodu, Epe, Ibeju-Lekki, Somolu, and Kosofe LGAs to receive the Food Packs. These packs contained essential items such as Goldenvita, Semo Vita, Garri, Pure Soya Oil, Spread (Butter), Granulated Sugar, Pasta Couscous, Pasta Macaroni, Pasta Spaghetti, Noodles Jollof, Noodles GMPS, and Amazing Day Breakfast Cereal.
Senator Abiru, known for his dedication to community service, emphasized that the Food Packs program serves as a direct intervention to alleviate the economic challenges faced by vulnerable individuals, particularly in the wake of the petroleum subsidy removal. He expressed his commitment to supporting the most disadvantaged households during this difficult period.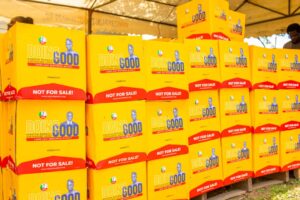 Furthermore, Senator Abiru pledged to continue advocating for legislation, programs, and initiatives that will have a lasting positive impact on the constituents of Lagos East. He highlighted the SAIL Innovation Lab, a groundbreaking initiative he and his wife, Feyisola, founded in Lagos East. This lab aims to provide sustainable job opportunities and global competitiveness to the district's young people, with many already receiving training in sought-after digital and tech-related programs.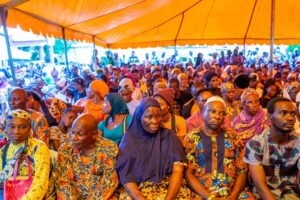 Addressing the critical issue of the Ikorodu-Itokin road, Senator Abiru assured constituents that the new government, under Asiwaju Bola Ahmed Tinubu's leadership, is committed to implementing the awarded rehabilitation project, which will improve connectivity in the region.
It's important to note that Senator Abiru's philanthropic efforts extend beyond this initiative. He previously disbursed over ₦150 million to more than 2,500 vulnerable individuals over a 24-month period through his COVID-19 Financial Relief Scheme. Each month, beneficiaries received a direct credit of ₦5,000, offering much-needed support during the pandemic.
Several beneficiaries expressed their gratitude for Senator Abiru's generosity, including Muftau Adegboyega Tojuowo, a person living with a disability, as well as Anuoluwapo Zainab, Tiletile Kazeem Idowu, Folake Akerele, and Niyi Oyeniran.
The distribution event in Ikorodu was attended by notable dignitaries, including Dr. Saheed Oladapo Ibikunle, Special Adviser to the Senator on Constituency Matters, Hon (Mrs) Adebimpe Akinsola, Alhaji Rilwan Ishola Jinadu, Alhaja Abiodun Ogunniyi, Arc Taiwo Kara, Alhaji F O Lasisi, Alhaji Mondiu Jimoh, and Hon Sefiu Ogunyemi, among others. Senator Abiru's continued commitment to his constituents and his unwavering dedication to community welfare have earned him the respect and admiration of his constituents and the broader public alike.