… Extols President Tinubu's Administration and Calls for National Support
Senator Mukhail Adetokunbo Abiru, FCA, the respected representative of Lagos East Senatorial District in the National Assembly, has extended his warm congratulations to Muslims in the district and throughout Nigeria on the occasion of the Eid-el-Kabir festival.
In a heartfelt message personally crafted by the esteemed Senator in Lagos on Tuesday, he urged Muslims to follow the exemplary devotion of Prophet Ibrahim and embrace the spirit of Eid-el-Kabir, which symbolizes sacrifice and unwavering faith.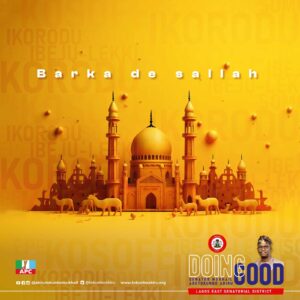 The Senator's statement reads, "I join my Muslim brethren and fellow Nigerians in celebrating this year's Eid-el-Kabir festival, both in Lagos East Senatorial District and across our great nation.
"It is imperative that we cultivate harmonious relationships with our neighbors, abandoning actions that exacerbate our national divisions. This is a time for all Nigerians, regardless of ethnicity, political affiliation, or religious background, to unite and contribute to our nation's progress.
"I implore each of us to collaborate with our esteemed President, His Excellency Asiwaju Bola Ahmed Tinubu, GCFR, as he works diligently to fulfill our renewed hopes and aspirations.
"In less than a month in office, we have witnessed bold reforms and far-reaching policy decisions aimed at rescuing our beloved country from the brink of economic catastrophe. While such measures may cause temporary discomfort, the fleeting hardships pale in comparison to the immense benefits and progress our nation will experience in the near future.
"May the Almighty Allah grant our heartfelt prayers for our beloved nation as we commemorate the heroic act of faith and submission to Allah's will by Prophet Ibrahim (Peace be upon him)."