As the Eid-il-Kabir festival is celebrated across the globe today, Hon. Segun Agbaje, a prominent figure in the Lagos All Progressive Congress (APC) and the coordinator of the East Consultative Forum (ECF), has joined hundreds of well-wishers to extend warm greetings to traditional rulers, politicians, religious leaders, the entire Epe populace and Lagosians in celebration of Eid-il-Kabir.
In an interview with Kakalistiq media in Epe on Tuesday, he admonished leaders to be compassionate in extending hands of benevolence to the people.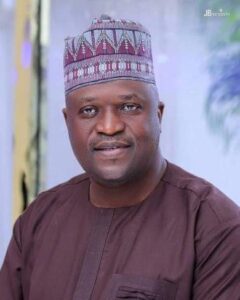 "As the Eid-il-Kabir celebration is celebrated all over the world, I join the rest of the world to congratulate our highly revered royal fathers on the occasion. I urge everyone to embrace the spirit of giving, compassion, and empathy. I believe that by extending a helping hand to those in need, irrespective of religious, ethnic, or political affiliations, the bonds of unity and peace will grow stronger. Together, I envision a future where Epe becomes a shining example of progress and inclusive governance," he averred.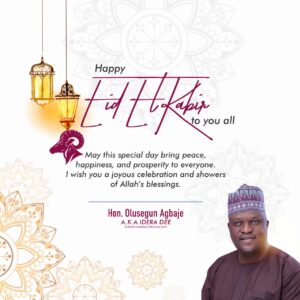 Hon Segun Agbaje, a former two-term Chairman of Epe Local Government and business mogul, understands the significance of political leadership in promoting unity, peace, prosperity, and development. He believes that engaging in charitable acts within the realm of politics is a vital tool for improving the lives of the masses.
As a prominent party chieftain, and the coordinator of the East Consultative Forum, he has supported the championing of various initiatives that prioritize the welfare of the people by the APC, particularly in the areas of education, healthcare, and economic empowerment.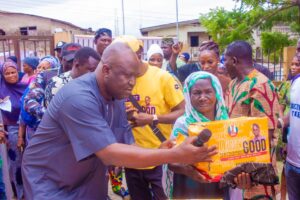 Agbaje further highlighted the essence of political leaders dedicating themselves to selfless service, putting the interests of the people above personal gains.
"I firmly believe that true leadership is measured by the positive impact it has on the lives of the citizenry. By engaging in charitable acts and implementing inclusive policies, political leaders can create an enabling environment that uplifts individuals, families, and communities.
"I appeal to our people for the continued support of the APC-led government of President Bola Tinubu and Governor Babajde Sanwoolu of Lagos at all levels. The significant strides made by the government in driving development and delivering dividends of democracy to the people are exemplary. I urge everyone to unite, rise above political differences, and work hand in hand with the government to achieve greater progress and prosperity," he said.