In a bid to foster collaboration and support the local police force, Alhaji Alieru O Saliu, the newly elected Chairman of the Police Community Relations Committee (PCRC), led a delegation on a courtesy visit to the Police Commander at the Divisional Headquarters, Area J Command, Elekesan Bus Stop, Elemoro Ibeju-Lekki, Lagos, on 15th June 2023.
Kakalistiq media reports that the purpose of the familiarization visit was to establish a cordial relationship with the headquarters and extend assistance to the Police in areas of need.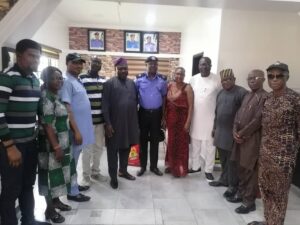 During the visit, Alhaji Saliu on behalf of the newly elected executives of the 10 PCRC Division under the command expressed commitment to fostering a strong partnership between the community and the police force, emphasizing the importance of collaboration in ensuring the safety and security of the area.
He highlighted the committee's role in bridging the gap between the police and the community and assured the Commander of their support in addressing challenges and implementing community-oriented initiatives.
"The importance of community engagement in supporting law enforcement efforts can not be overstretched. With this visit and the committee's commitment, the police force in the Ibeju-Lekki area should expect increased support, improved communication, and strengthened bonds with the community. We want to assure the command that this partnership will contribute to a safer and more secure environment, fostering a sense of trust and unity among residents and law enforcement agencies alike," he said.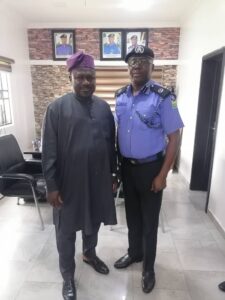 In response, the Commander of Area J Command, Assistant Commissioner of Police (ACP) Agboola Jide expressed gratitude for the courtesy visit and welcomed the committee's willingness to collaborate. He acknowledged the significance of healthy partnerships between the police and the community, stressing that such alliances are crucial in maintaining law and order.
ACP Agboola also expressed optimism about the positive impact that the visit and subsequent collaborations would have on the overall security and well-being of the community.
The visit concluded with both parties affirming their commitment to working together, with the Chairman of the Police Community Relations Committee and the Commander exchanging contact details for seamless communication and future engagements. The visit laid a foundation for a mutually beneficial relationship, promoting trust, cooperation, and effective crime prevention strategies.