Hon. Abiodun Tobun, the respected lawmaker representing Epe Constituency I at the Lagos State House of Assembly, has expressed his heartfelt congratulations to the esteemed royal fathers and constituents on the occasion of the Eid-il-Kabir celebration.
Speaking with Kakalistoq media, he emphasized the significance of this festival and the positive impact it has on the lives of his constituents.
Hon. Tobun acknowledged the immense support and active participation of his constituents, whose engagement in the political process has resulted in positive changes and improvements in their lives.
Speaking further, he praised their dedication and commitment to the development and progress of Epe Constituency I, stating, "I am proud to represent a constituency where the people actively participate in the political process. Their contributions and feedback have been invaluable in shaping policies and initiatives that have positively impacted their lives."
Reflecting on the significance of Eid-il-Kabir, Hon. Tobun highlighted the festival's profound lessons and its impact on the people.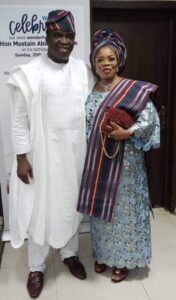 He emphasized the values of sacrifice, unity, and devotion exemplified by the occasion, stating, "Eid-il-Kabir teaches us the importance of selflessness and the willingness to make sacrifices for the greater good. It serves as a reminder that unity and togetherness are vital for the development and prosperity of our community.
"The festival brings people together, transcending social, cultural, and religious boundaries. It provides an opportunity for us to strengthen our bonds, appreciate diversity, and promote unity among our constituents."
When asked about the significance of extending heartfelt congratulations to esteemed royal fathers in his constituency, Hon. Tobun stated, "Our royal fathers are the custodians of our traditions and culture. They play a crucial role in maintaining social order and promoting unity within our constituency. Sending heartfelt congratulations to them is a way of acknowledging their wisdom, guidance, and leadership. It also reinforces the spirit of mutual respect and appreciation that is vital for our community's progress."
Hon. Abiodun Tobun concluded by expressing his gratitude to the constituents of Epe Constituency I for their continuous support and active engagement in the political process. He reaffirmed his commitment to representing their interests and working to