The leadership of the Academic Staff Union of Universities, Lagos State University of Education, Ijanikin with a campus in Epe has commended the management of the citadel of higher learning for the remarkable success recorded in the recently concluded promotion exercise for academic staff members of the institution.
This news medium reports that successful academic staff members were communicated with in an official bulletin of the university with reference LASUED/VC/INFOR/100/TEM/VOL1/01 on Wednesday 24th May 2023.
Excited with the phenomenal promotion of a whopping 62 academic staff members from the cadre of Senior Lecturer to Associate Professor, the Secretary of the union, Comrade Jamal Apena on behalf of the Chairman expressed elation on the right footing the Management of the University has taken in elevating the thorough-bred professionals who have recorded remarkable progress in their academic sojourn over the years.
Describing the promotion as a high-level commitment and dedication to the growth and development of academic staff members orchestrated by the Vice-Chancellor, Professor Bidemi Lafiaji-Okuneye, Comrade Apena further admonished the newly promoted staff members to step up their work effectively towards the prosperity of the university.
Whilst congratulating the newly-promoted members as contained in the statement made available to this news medium, Comrade Apena expressed high hopes that issues bothering on the welfare of the members of the union would be resolved in no time.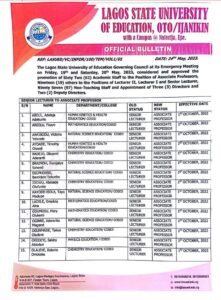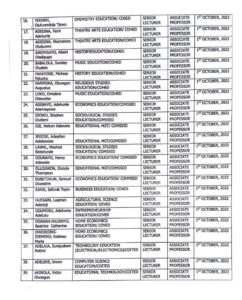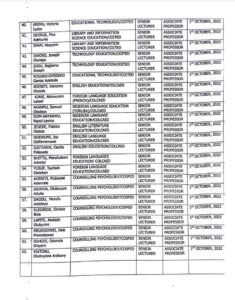 "The journey of having homegrown Professors began with the elevation of the first set of our own Associate Professors under the leadership of the dynamic and pioneer Vice Chancellor of the University, Professor B.B. Lafiaji-Okuneye.
"In the same vein, the promotion of others to different cadres shows her commitment to ensuring the same objective in the nearest future.
'ASUU- LASUED, therefore, congratulates everyone who is a beneficiary of the promotion. The joy of being promoted should further spur in us a greater commitment to the growth and development of our beloved University.
"It is equally expected that other lingering issues pertinent to the welfare of our members are also attended to as soon as possible.
"On behalf of the ASUU-LASUED Chairman and the Executive Council, I say a big congratulation for the good development," the statement read.
It was gathered that aside from the 62 Associate Professors, 2 attained the position of Senior Lecturers, 5 clinched the Lecturer I cadre while 12 academic staff members attained the Lecturer II position.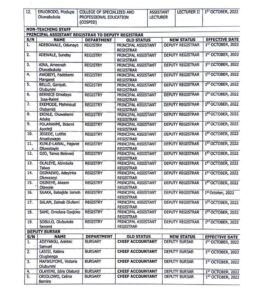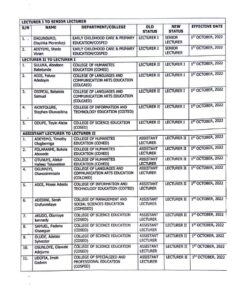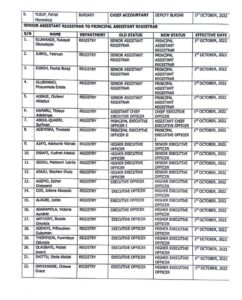 As regard the non-academic staff members, while 19 Deputy registrars emerged, 6 Deputy Bursars, 5 Principal Assistant Registrars,  1 Chief Executive Officer, 1 Assistant Chief Executive Officer, 1 Principal Executive Officer, 15 Higher Executive Officers and other vacant positions were promoted.