Nigeria has lost one of its most prominent industrialists and philanthropists, Chief MA Obagun, who passed away in the early hours of today at the age of 91.
Kakalistiq Media reports that Chief Obagun was the founder and chairman of Onward Paper Mill Plc (1973), the first indigenous paper converter to manufacture and market top-quality stationery in Nigeria.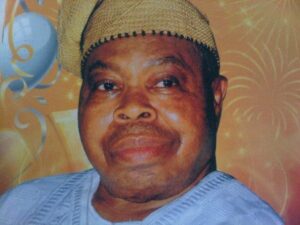 It was gathered that Chief Obagun started his business in 1972 with a vision to provide premium quality paper products and services to the Nigerian market. He was also passionate about environmental sustainability and innovation and supported the forestry policy to ensure the renewal of depleted resources.
He was not only a successful entrepreneur, but also a generous benefactor to many causes and communities. He donated millions of naira to various educational, health, religious, and social initiatives across the country. He was also a mentor and inspiration to many.
The Poka-Epe-born Chief Obagun is survived by his wife, children, grandchildren, and siblings. His funeral will be held today by 4 pm at his hometown in Poka, Epe, Lagos State.
Many dignitaries, business leaders, friends, and admirers are expected to attend the ceremony to pay their last respects to the departed icon.
Chief Obagun, the father of Obafemi obagun, the current Managing Director of Onward Stationery Stores Limited will be remembered as a visionary leader, a compassionate humanitarian, and a patriotic Nigerian who contributed immensely to the development and growth of the nation.
His businesses, which included Oba Paper, Onward stationery stores, and Epesok Paper Mill —the first indigenous company to make jumbo reels for the production of toilet rolls and related products in the late 1980s—also gave many young and older individuals jobs.