A remarkable synergy of purpose has come to fruition as the Ilara Kingdom, Eredo LCDA, Epe Lagos State, and Senator Mukhail Adetokunbo Abiru, representing Lagos East at the National Assembly, join hands through the auspices of the Federal Ministry of Agriculture and Rural Development, Abuja, to unveil new classroom blocks at UPE Primary School, Ilara-Epe.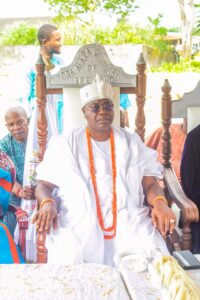 Kakalistiq.com reports that this visionary partnership revealed by the Monarch was celebrated during a two-day event which not only marks the Alara of Ilara Kingdom's third year of enthronement but also sets a powerful precedent for yet another exemplary collaborative progress in education for Ilara.
Kicking off on the 16th of August, 2023, with an interfaith prayer session uniting Christians and Muslims at the architectural edifice of Ilara, the unveiling of these classroom blocks underscores the unwavering dedication of multiple stakeholders to advance education in the community.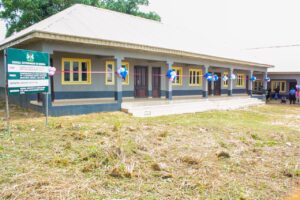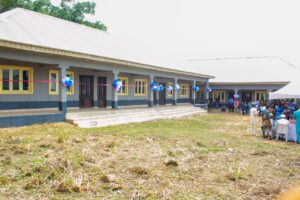 Known for his brand of innovative leadership prowess, Senator Mukhail Adetokunbo Abiru's commitment to the betterment of Lagos East is palpable through this collaborative effort. There is no denying the fact that education is the cornerstone of progress, and by partnering with Ilara Kingdom and Lagos State, the Senator's commitment to investing in the future of Lagos East communities is unwavering.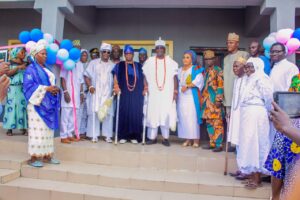 The monarch, Oba Olukayode Olufolarin Ogunsanwo, Telade IV, in an interview, echoed Senator Abiru's sentiments, expressing his heartfelt gratitude for the joint effort. "When we come together for a common purpose, our potential is limitless. This partnership signifies our collective determination to provide quality education for our children. The best is yet to come in Ilara. Very soon, other impactful projects being facilitated by the duo of Rep. Wale Raji and Sen. Tokunbo Abiru who are representing us in the National Assembly will be commissioned. This is just the beginning, I promise," remarked the Alara of Ilara Kingdom.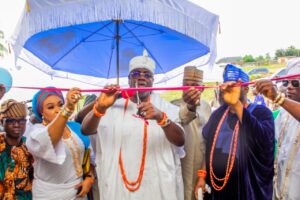 The classroom blocks, a testament to the harmonious collaboration, exemplify the senator's dedication to the growth of Lagos East and the empowerment of its youth. Oba Olufolarin Ogunsanwo's fervent commitment to his community's prosperity is beautifully encapsulated in this endeavor.
As the ceremonial events unfolded, Kakalistiq.com reports that attendees were united in their admiration for the joint venture. HRM Oba Olayemi Lukman, Gbadewolu of Araromi, Ibeju-Lekki, praised the initiative as a beacon of progress for the community, highlighting the positive change that can arise when leaders work together.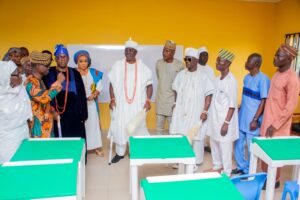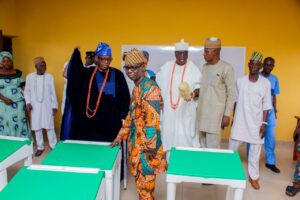 HRM Oba Adesegun Alowonle, Elemuren of Emuren Remo, Ogun State, echoed this sentiment, commending both Senator Abiru and Oba Olufolarin Ogunsanwo for their commitment to uplifting the community's education standards.
HRM Oba Babatunde Adebowale Muyideen Balogun, Onisolu of Solu Alade, Ibeju-Lekki, concurred, emphasizing the lasting impact of the partnership on the lives of young learners in Ilara.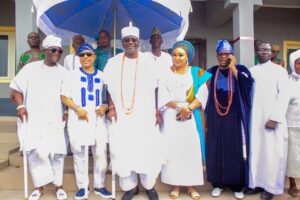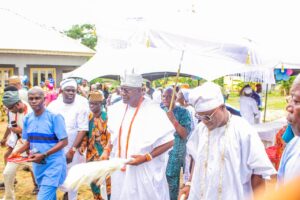 This collaborative endeavor sets a promising precedent, spotlighting the transformative power of unity and shared vision in education. As the coronation anniversary celebrations culminate on the 19th of August, 2023, with the conferment of esteemed chieftaincy titles, the grand finale serves as a reminder that through shared purpose, progress is not just achieved; it is illuminated.
(Photographs captured by TMSmart Photography afuyeoluwatosin2@gmail.com/0806137740)