In a remarkable show of respect and solidarity, the President of Club Seventies Epe, Most Distinguished Member, MD Hassan Adelaja, has extended warm Eid-il-Kabir greetings to the highly revered traditional rulers of the Epe division in Lagos State.
Kaklistiq media reports that the message of felicitations was sent as part of the commemoration of the joyous Islamic festival.
Club Seventies Epe, known for its exemplary social engagement, is a distinguished club comprising a diverse group of thoroughbred professionals from various walks of life. Their core mission revolves around positively impacting lives within the Epe division, utilizing both human and material resources.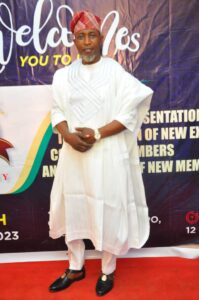 President MD Hassan Adelaja N, in his congratulatory message sighted by Kakalistiq media, expressed deep admiration for the esteemed traditional rulers, acknowledging their invaluable contributions to the development and cultural heritage of the Epe division. He emphasized their role as custodians of tradition and guardians of the region's rich cultural heritage.
"On the auspicious occasion of Eid-il-Kabir, we extend our warmest congratulations and heartfelt wishes to the revered royal fathers of our land. Your wisdom, guidance, and unwavering commitment to preserving our cultural heritage have earned you our utmost respect and admiration.
"As custodians of tradition and embodiment of noble values, you have continually fostered unity, harmony, and peaceful coexistence within our communities. Your leadership has been instrumental in maintaining the cultural fabric that binds us together, while also embracing progress and development.
"We are grateful for your invaluable contributions to the well-being and prosperity of our people. Your selfless service and tireless efforts in ensuring the welfare of your subjects are truly commendable. Through your leadership, you have inspired generations and imparted timeless wisdom upon us.
"On this joyous occasion of Eid-il-Kabir, we offer our sincerest prayers for your continued good health, happiness, and longevity. May your reign be blessed with abundant peace, prosperity, and divine guidance.
"As we come together to celebrate this significant festival, let us reflect on the importance of unity, compassion, and sacrifice. May this occasion strengthen the bonds of brotherhood and sisterhood among us, and may it bring joy and blessings to all.
"Once again, we congratulate our esteemed royal fathers and express our gratitude for their unwavering dedication to the betterment of our communities. May this Eid-il-Kabir be a time of joy, love, and renewed hope for all," the statement read.
The Eid-il-Kabir festival, also known as Eid-al-Adha, is a significant occasion for Muslims worldwide. It marks the commemoration of Prophet Ibrahim's willingness to sacrifice his son as an act of obedience to God. Muslims across the globe celebrate by participating in prayers, engaging in acts of charity, and sharing the joyous occasion with family and friends.