In a decisive response to the growing traffic congestion and rising accidents along the Lekki-Epe Expressway, Kakalistiq.com reports that an emergency meeting was convened by Engineer Sesan Olowa, Chairman of the Ibeju-Lekki Local Government. The meeting, which took place on Thursday, October 5th, 2023, brought together key stakeholders, including Craneburg, security agencies, and traffic experts, at the Local Government Secretariat in Igando-Oloja.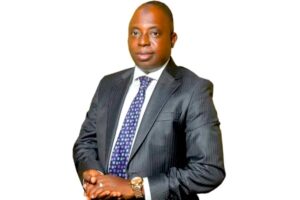 The alarming traffic situation and increasing accidents, particularly within the section of the expressway undergoing the second phase of construction by Craneburg Company, necessitated urgent action to prevent further incidents resulting from reckless driving and unauthorized activities on the road.
Despite the ongoing efforts of Craneburg, Ibeju-Lekki Local Government, and the collaboration of security and traffic agencies, the stakeholders recognized the need for immediate and stringent measures to ensure the completion of the project without disruptions caused by local communities and other road users.
Unanimously, the meeting resolved to establish a Joint Taskforce, which would oversee and enforce a series of measures aimed at mitigating traffic challenges. Among the key agreements reached were: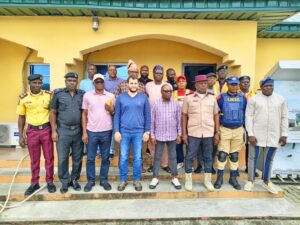 Reflective Signages: Signages bearing logos of the major stakeholders, including Craneburg, Ibeju-Lekki, and Lagos State, will be installed at designated bus stops and construction zones to guide passengers and commercial bus operators.
Prohibiting Roadside Repairs: Measures will be implemented to deter roadside vehicle repairs, driving against traffic, illegal parking, and other traffic violations. Offenders may face penalties, including the removal of plate numbers and fines.
Temporary Impound Yard: A temporary yard will be established to impound vehicles confiscated by the Joint Taskforce, enhancing the effectiveness of enforcement.
Alahun Tipper Garage Relocation: Discussions will be held with security agencies, the Local Government, and the union regarding the possible relocation of the Alahun Tipper Garage due to alleged criminal activities occurring there.
Public Awareness Campaign: A comprehensive awareness and enlightenment campaign will be launched through radio and other communication channels to educate the public about traffic conditions, restrictions, and guidelines aimed at reducing gridlock and restoring order.
Stakeholder Engagement: A stakeholders' meeting will be organized to inform opinion leaders, traditional rulers, community development associations (CDAs), market traders, and other relevant parties about the Taskforce's decisions and activities to prevent conflicts of interest.
In line with Lagos State Traffic Law provisions that allow Local Governments to collaborate with relevant authorities in addressing traffic issues, an official letter will be submitted to the Lagos State Ministry of Transportation to apprise them of the impending inauguration of the Traffic Taskforce.
This comprehensive strategy seeks to alleviate the traffic woes on the Lekki-Epe Expressway, ensuring safer and more efficient travel for all road users.