Kakalistic.com reports that Eredo Local Council Development Area (LCDA) under the amiable leadership of Hon. Monsuru Ismail Akinloye has expressed deep concern over the recent spate of gruesome murders within the community.
In response to these incidents, the LCDA through a letter tagged "Incidences of Killings in Eredo Local Council Development Area" with reference no CH/ERLCDA/VOL.1/02 dated 3rd October 2023 has pledged its condolences to the victims' families and determined to bring the perpetrators to justice.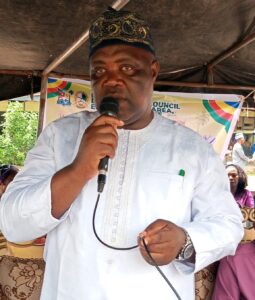 In an effort to restore calm and maintain security, the LCDA has instituted a curfew from 9:00 PM to 6:00 AM. This measure is aimed at restricting the movement of residents during nighttime hours when these heinous crimes have occurred.
The LCDA authorities are appealing for the full cooperation of its citizens during this challenging period. It is urged that residents continue with their daily activities while remaining vigilant. Security personnel have been deployed to ensure the safety of the community and to prevent any further acts of violence or disorder.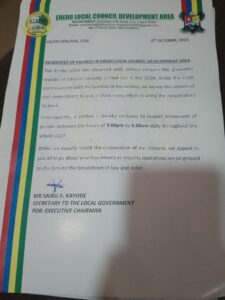 The Secretary to the Local Government, Mr. Saibu Kayode, emphasized the LCDA's commitment to addressing the recent incidents and bringing the culprits to justice. The LCDA remains resolute in its dedication to safeguarding the lives and property of its citizens.
The LCDA urges all residents to report any suspicious activities to the appropriate authorities and to work together to maintain peace and security in Eredo LCDA.