Kakalistiq.com reports that Barrister Olayinka Oladunjoye, a two-time former commissioner in Lagos State who served in the Education and Commerce, Industry, and Cooperatives portfolios, has expressed delight at the appointment and swearing-in of Barrister Tokunbo Wahab as the Commissioner of Environment by the Governor of Lagos State, His Excellency, Governor Babajide Sanwo-Olu.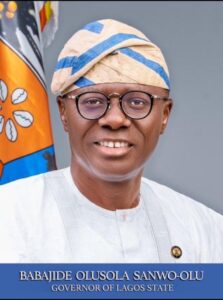 Barrister Wahab, a shining star from Epe Division, now steps into this prestigious role, having previously served as the Special Adviser on Education during Governor Sanwo-Olu's first term. His groundbreaking achievements in the education sector during his tenure as SA, have earned him this elevation to the position of commissioner.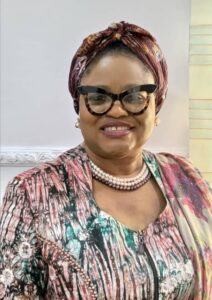 Reacting to Barrister Wahab's appointment, Barrister Oladunjoye, the current Vice-Chairman of the All Progressive Congress, Lagos East, shared her excitement, describing it as a significant milestone not only for the good people of Ikosi-Ejinrin LCDA, Epe Division but for the entire state of Lagos. She lauded the Governor's choice, recognizing it as a reward for Barrister Wahab's dedication and hard work.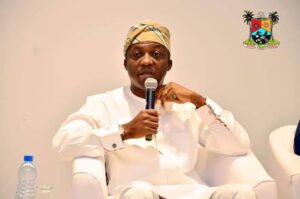 "This appointment is a testament to Barrister Tokunbo Wahab's exceptional contributions to the education sector and his unwavering commitment to Governor Sanwo-Olu's vision," Barrister Oladunjoye remarked. "It's indeed a commendable decision by the Governor to entrust him with the critical portfolio of Environment and Water Resources."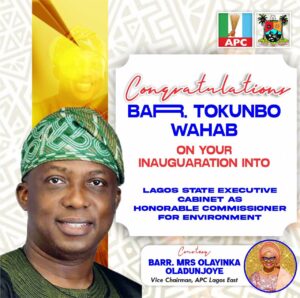 She went on to express her confidence in Barrister Wahab's ability to excel in his new role and maintain the high standards expected of him. Barrister Oladunjoye also commended Governor Babajide Sanwo-Olu for making a noble and meritorious choice, emphasizing that it sets a precedent for excellence in governance.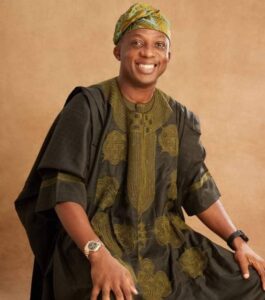 Barrister Oladunjoye further extended her heartfelt congratulations to the other commissioners and Special Advisers who made the list, urging them to embrace the THEMES+ agenda with a shared vision of achieving a Greater Lagos Rising.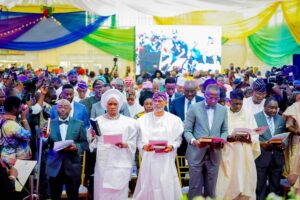 In celebrating Barrister Tokunbo Wahab's appointment, Barrister Olayinka Oladunjoye highlights the potential for dedicated public servants to rise through the ranks and contribute significantly to the development of Lagos State, ultimately serving the people with unparalleled dedication and commitment.