Kakalistiq.com reports that His Royal Majesty Alaiyeluwa Oba Dr. Olufolarin Olukayode Ogunsanwo (JP), TELADE IV, the revered Alara of Ilara Kingdom in Epe Division, Lagos State, led a high-profile delegation on Monday, September 25th, 2023, to hold a crucial meeting with CP. Idowu Owohunwa, the Commissioner of Police for Lagos State Command. The gathering aimed to address the escalating security concerns plaguing the region, including kidnapping and armed robbery.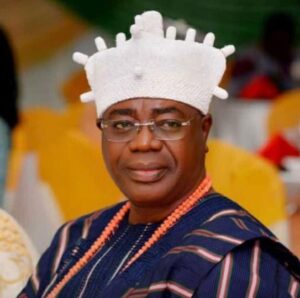 The security situation in EredoLCDA and Epe Division, Lagos State, has been a growing concern due to a surge in criminal activities. HRM Oba Ogunsanwo, recognizing the gravity of the situation, spearheaded this vital meeting to engage with the Commissioner of Police in search of sustainable solutions to enhance safety and security within the division.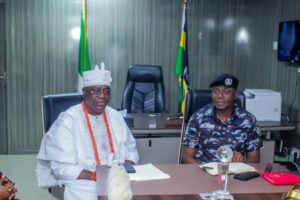 The primary agenda of the meeting was to present an overview of the security challenges facing Eredo LCDA and the entire Epe Division. HRM Oba Ogunsanwo provided detailed insights into the rising incidents of kidnapping, armed robberies, and related crimes that have gripped the communities that make up the Division with fear.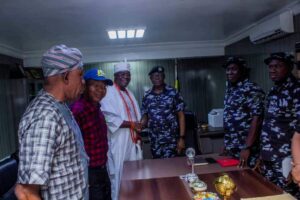 During the discussion, the delegation fervently requested an increased police presence and more frequent patrols in Epe Division as a deterrent against criminal activities. They stressed the importance of a visible police force to reassure the local community and discourage potential wrongdoers.
HRM Oba Ogunsanwo proposed a closer collaboration between the police force and local community vigilantes to strengthen intelligence gathering and bolster the response to security threats.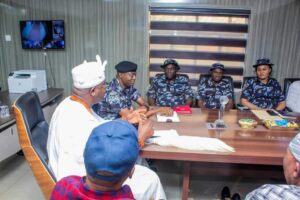 In a bid to address the root causes of crime, His Royal Majesty suggested implementing programs aimed at rehabilitating and empowering the youth in Epe Division. Such initiatives seek to provide alternative opportunities for young individuals, diverting them away from criminal activities.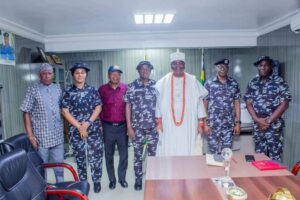 Additionally, the delegation put forth the idea of establishing a feedback mechanism that would enable residents to promptly report security concerns and incidents. This system would ensure that law enforcement agencies can respond swiftly to address emerging threats.
The meeting between His Royal Majesty Oba Ogunsanwo and the Commissioner CP. Idowu Owohunwa underscores the commitment of community leaders and law enforcement to collaboratively tackle the security challenges facing the Epe Division. As the region seeks to reclaim its safety and tranquility, this gathering marks a significant step towards a more secure and prosperous future.
See more photos below: