The Vice-Chancellor of the prestigious Lagos State University of Education, Professor Balikis Lafiaji-Okuneye has congratulated members of staff and students of the university in commemoration of the presidential transition which will usher in the 16th democratically elected president in the country.
This came on the heels of the declaration of Monday, May 29th, 2023 as work free day as contained in a newsflash released by the university management with reference number LASUED/I&P/NEWSFLASH/16/VOL.01/10 on Friday 26th May, 2023.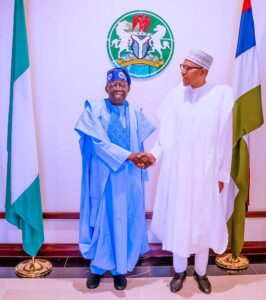 "The Vice-Chancellor, Prof. Bidemi Balikis Lafiaji-Okuneye on behalf of the Governing Council and Management, Lagos State University of Education wishes members of staff and students all the best on this historic event in our dear nation," the statement read in part.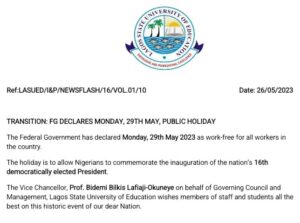 It is worth noting that the declaration of a holiday for a presidential inauguration is a momentous occasion that signifies the peaceful transition of power and the beginning of a new era. This special day allows the nation to come together, celebrate democracy, and honor the incoming leader.
It is a time for reflection, unity, and renewed hope for the future. People across the country have the opportunity to witness history in the making and participate in various festivities and ceremonies.
The holiday serves as a reminder of the importance of civic engagement, the democratic process, and the shared values that bind us as a nation. It is a day of national pride and an opportunity to embrace the collective spirit that defines our great country.