Akinwunmi Ambode, Babatunde Fashola, and the current governor, Babajide Sanwoolu, reconnected with their political boss, President Bola Tinubu, in a truly extraordinary and unexpected turn of events that changed the political landscape of Lagos.
The significance of this reunion at the reception organized to honor the President at the Lagos House Marina, reverberated throughout the political sphere, captivating the attention of citizens.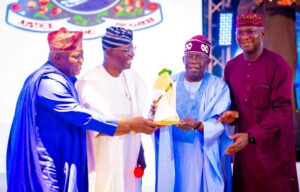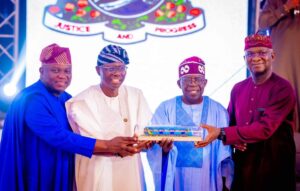 Amidst the jubilant atmosphere of the Ojude Oba Epe Festival, held at the King Kosoko Embankment Center at Marina Waterfront in Epe, Lagos State, on June 30th, 2023, Kakalistiq Media had an exclusive interview with the esteemed academician and Deputy Vice-Chancellor of Lagos State University of Education, LASUED, Ass. Professor Nosiru Onibon.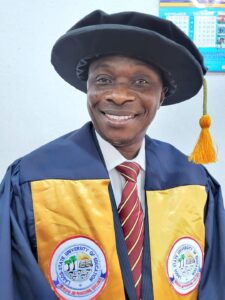 Onibon, while extending gratitude to Governor Babajide Sanwoolu for his unprecedented humane, largeheartedness, and unifying disposition, offered his insightful perspective on the implications of the remarkable reunion and its potential impact on the political landscape of Lagos and the people of the Epe Division.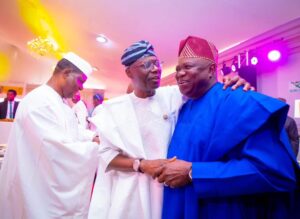 "I want to use this medium to express my heartfelt appreciation for the remarkable acts of Governor Babajide Sanwoolu in unifying the party stalwarts during the reunion. I commend His Excellency's leadership skills and diplomatic approach, which played a crucial role in bringing together the former governors and fostering a sense of camaraderie," he said.
Onibon recognized the governor's commitment to promoting a harmonious and inclusive political environment, emphasizing that his efforts have not only strengthened the party but also instilled a renewed sense of purpose among its members.
The All Progressives Congress (APC) in Lagos, especially in Epe Division, where Akinwunmi Ambode's political base is located, could be energized and strengthened by this reunion, he further explained. He asserted that the reunion is a clear testament to President Tinubu's enduring influence and leadership, as well as the profound respect his students have for him.
"I view this reunion as a positive sign for the All Progressives Congress (APC) in Lagos and the larger political landscape of the state. Akinwunmi Ambode's active return to the APC fold after a period of absence highlights the importance of unity and consensus-building within the party. It indicates a willingness to put aside differences and work together for the betterment of Lagos and its residents," he said.
He added that the reunion of these political figures, who have all played significant roles in Lagos governance, will create a sense of cohesion and foster a renewed commitment to delivering good governance and more development projects in Epe Division.
He believes the reunion can contribute to a more robust political environment in Lagos, where diverse perspectives are valued, and the collective experience and expertise of these leaders can be harnessed for the benefit of the state. The involvement of Akinwunmi Ambode in the APC's activities can potentially bring fresh perspectives and ideas to the table, ultimately enriching the party's policy formulation and implementation.