In a remarkable move aimed at fostering youth development and community engagement, Kakalistiq.com reports that Senator Adetokunbo Mukhail Abiru has embarked on the construction of a mini-stadium in the Odo-Egiri community, Eredo LCDA, Epe. The project, which aligns with the senator's commitment to his constituents, received enthusiastic praise from the youths of the community.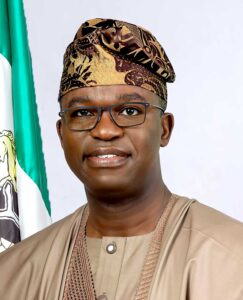 Senator Tokunbo Abiru, along with distinguished personalities including Rep. Wale Raji, Member of the House of Representatives, Epe Federal Constituency; Oba Dr. Olukayode Olufolarin Ogunsanwo, the Alara of Ilara Kingdom; and Hon. Segun Olulade, former Lagos State House of Assembly member, Epe Constituency II, visited Epe to grace the celebration of Lady Doja Otedola's Thanksgiving service in Odo-Iragunsen.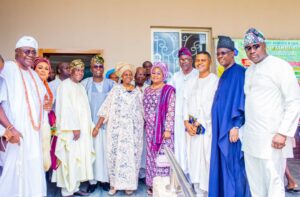 To ascertain the level of work done, the senator and other dignitaries visited the construction site for inspection on Sunday, November 12, 2023, as part of his continued effort to fulfill promises made to the community. Speaking after the visit, some youths expressed their excitement at the tangible manifestation of Senator Abiru's commitment.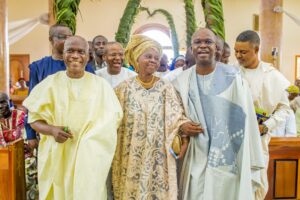 Supervisor for Works, Eredo LCDA, Hon. Waris Temitope Odeyemi, known as Omituntun, lauded Senator Abiru's dedication, emphasizing that the mini-stadium would be crucial in nurturing young talents within the community.
"Senator Abiru's commitment to this project is commendable. This mini-stadium is a testament to his dedication to the development of our community and the youth," he said.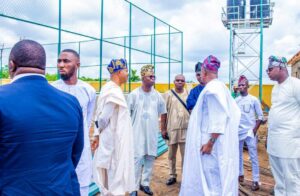 Chief Press Secretary to Eredo LCDA Chairman, Mr. Idris Jubril, also expressed excitement at the initiative. He highlighted the socio-economic benefits the facility would bring, foreseeing its potential to divert young people from negative influences.
"This mini-stadium is a game-changer. It will not only boost socio-economic activities but also serve as a positive outlet for our youth, steering them away from social vices," he said.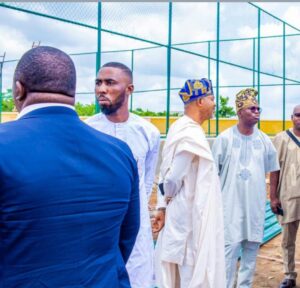 Mrs. Fatimah Tunwashe described the development as a significant stride, affirming the government's commitment to elevating leadership standards and fulfilling promises to the electorate. She praised Senator Abiru for his visionary initiative and anticipated its positive impact on the community.
"This mini-stadium is a testament to the changing face of political leadership. Senator Abiru's initiative will undoubtedly uplift our community and empower our youth," she remarked.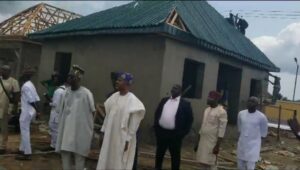 The mini-stadium, once completed, is poised to become a central hub for community activities, sporting events, and talent development, showcasing Senator Abiru's leadership understanding and commitment to community welfare.