In a heartwarming tribute on the occasion of World Teachers' Day, Kakalistiq.com reports that Senator Tokunbo Abiru extends his profound admiration and heartfelt gratitude to the dedicated educators who have chosen the noble path of teaching. This global celebration not only honors the teaching profession but also recognizes the exceptional impact teachers have had in shaping the lives of countless individuals, families, and the wider community.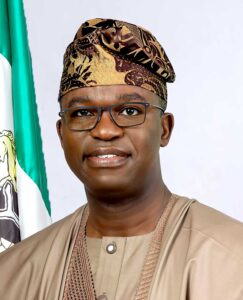 Senator Abiru takes this opportunity to highlight a remarkable initiative, the Lagos East Teachers' Fellowship Programme, driven by the SAIL Innovation Lab under his leadership as Founder of the SAIL Foundation. This innovative program underscores their unwavering commitment to education and innovation, as well as their deep appreciation for the invaluable work of educators.
He noted that the Lagos East Teachers' Fellowship Programme stands as a source of personal pride for Senator Abiru. It serves as a platform to acknowledge the unflagging dedication of teachers while also providing a means to fuel their professional growth.
Through this initiative, he averred that educators gain access to cutting-edge teaching tools, invaluable resources, and the latest pedagogical methods, thereby enhancing their skills and knowledge. As a result, they emerge as beacons of enlightenment, guiding students toward a brighter future.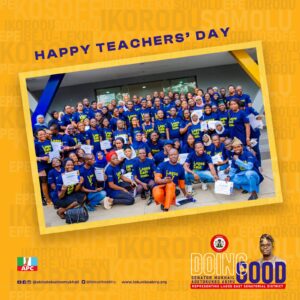 According to the #DoingGood Senator, the resilience, passion, and unwavering commitment of these educators in nurturing young minds have not gone unnoticed. Through their diligence, they have instilled in the youth the values of knowledge, discipline, and an unwavering pursuit of excellence.
"In today's rapidly evolving world, the role of educators has never been more pivotal. Teachers are not merely imparting knowledge; they are mentors, role models, and champions of their students' aspirations. Their influence extends far beyond the confines of classrooms, shaping the leaders and innovators of tomorrow."
"On this International Teachers' Day, it is vital to remember that the impact of educators transcends textbooks and lessons. They are the architects of character, builders of dreams, and creators of a brighter future. Their influence knows no bounds, and their contributions are immeasurable,"  he retorted.
Senator Tokunbo Abiru extends his heartfelt gratitude to teachers for their tireless efforts and unwavering dedication. He hopes that their passion for teaching will continue to kindle the flames of knowledge and inspiration in generations to come, leaving an enduring legacy in the hearts and minds of those they touch.