Kakalistiq.com reports that Barrister Tokunbo Wahab, the Honorable Commissioner of the Environment and Water Resources in Lagos State, is responding with urgency to a surge in environmental complaints pouring in from concerned residents across the state. These grievances, ranging from flooding to noise pollution and the obstruction of walkways by traders, have prompted the ministry to initiate a robust and comprehensive action plan, the commissioner disclosed via a Facebook post on Friday, November 17th, 2023.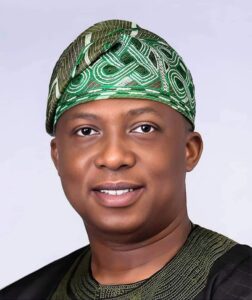 With an influx of complaints, the Ministry is acknowledging the severity of the challenges faced by citizens, encompassing vital aspects of their daily lives and livelihoods. The commissioner reiterated that the ministry is fully committed to swiftly addressing these concerns to restore law and order throughout Lagos State.
Recognizing the critical impact of flooding, noise pollution, and the unlawful blockage of walkways, the commissioner averred that the Lagos State Ministry of Environment and Water Resources is actively organizing and implementing a proactive action plan. This initiative involves collaborative efforts among various departments within the Ministry and relevant authorities to ensure an effective resolution.
"As the custodians of the state's environmental well-being, we acknowledge the significance of addressing these concerns with the utmost urgency," he stated.
The comprehensive response strategy includes collaborative efforts with relevant authorities and intensive public awareness campaigns. Stakeholder engagements will be conducted to foster community involvement and encourage strict adherence to environmental regulations.
The commissioner urges all residents and stakeholders to join hands in this collective endeavor, emphasizing the need for a clean, safe, and sustainable environment. Together, the community can actively contribute to mitigating environmental challenges and restoring the serenity and orderliness of Lagos State.
In a rallying call, the commissioner emphasizes that it's a "Greater Lagos Rising" and every resident has a role to play in shaping the environmental well-being of the state.