In a significant move to address ongoing challenges plaguing the residents of the Iraye-Oke community, Kakalistiq.com reports that concerned indigenes have rallied together to petition Lagos State Governor, Mr. Babajide Sanwo-Olu. They demand swift intervention in response to alleged encroachment by the Nigerian Army on their cherished properties.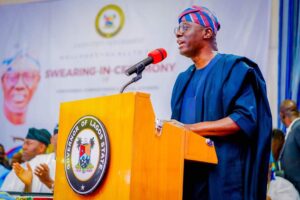 The petition, titled "Petition Regarding Nigerian Army (Epe Barracks) Illegal Taking Over of Community Land and Molestation of Community Members," was delivered to the Governor's office on September 4th and officially received by the Governor's Chief of Staff on September 7th, 2023.
Stakeholders behind the petition have expressed deep concern over the threats posed to life and property by the purported takeover of land that has deep historical and community significance. They assert that the soldiers' actions are unauthorized and illegal, undermining the fundamental rights of Iraye-Oke residents.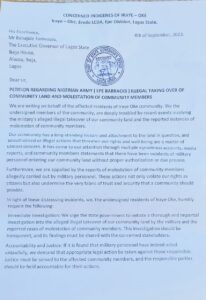 The petition quotes concerned community members as stating, "It has come to our attention through multiple eyewitness accounts, media reports, and community members' statements that there have been incidents of military personnel entering our community land without proper authorization or due process."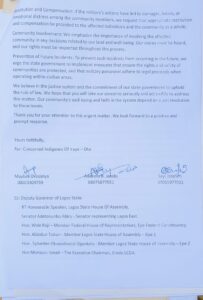 "Furthermore, we are appalled by the reports of molestation of community members allegedly carried out by military personnel. These actions not only violate our rights as citizens but also undermine the very fabric of our trust and security that a community should provide."
Prominent members of the community, including Hon. Muyiwa Okesanya, Mr. Adebola Jacobs, and Mr. Seyi Ibrahim, are among the petitioners. They are calling for a comprehensive investigation, accountability, justice, restitution, compensation, community involvement, and measures to prevent future incidents.
In their petition, they express their faith in the justice system and the commitment of the state government to uphold the rule of law, stating, "We hope you will take our concerns seriously and act swiftly to address this matter. Our community's well-being and faith in the system depend on a just resolution of the issues."
The petition regarding the alleged mistreatment of Iraye residents is seen as a crucial step in preventing potential conflict in the Epe Division, reminiscent of past military-host community conflicts. The residents' trust in the Lagos State Government's ability to administer justice is pivotal in finding a lasting solution to the problem.
The Governor's office has yet to issue an official response to the petition, but the concerned citizens remain hopeful for a timely resolution to the pressing issues affecting their community.