In a remarkable display of compassion and solidarity, Senator Tokunbo Abiru, the representative of Lagos East Senatorial District at the National Assembly, has initiated a noble endeavor to assist the underprivileged members of society during the festive season.
With the objective of offering support during challenging times, Kakalistiqmedia reports that the Senator Tokunbo Abiru Food Packs Program has been launched to benefit unemployed youths, the aged, people living with disabilities, widows, and women across 16 Local Government Areas (LGAs), and Local Council Development Areas (LCDAs) in the Lagos East Senatorial District.
The program, which aims to distribute 6,000 food packs free of charge, will play a significant role in alleviating the hardships faced by the vulnerable communities within the district during the Sallah celebration. The food packs, carefully prepared for this purpose, will be made available to individuals who possess a Food Pack Voucher.
To claim their food packs, recipients are required to visit the designated collection points on Sunday, 25th of June 2023, starting at 12 noon. These distribution centers have been strategically located across the Lagos East Senatorial District to ensure accessibility for all beneficiaries.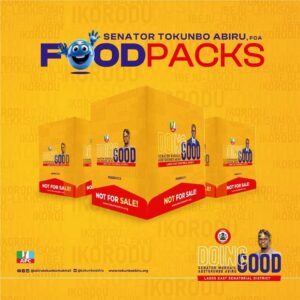 Kakalistiq media reports that one collection point is the Epe distribution center, located at 11, Hospital Road, Epe, Lagos. To avail themselves of the food packs, recipients can reach out to Maruf at 08166135456 or Mr. Gbenle at 0704 110 0897.
Another collection point is the Ikorodu Constituency Office, situated at 68, TOS Benson Road, opposite Abattoir, Ebute, Ikorodu. For inquiries or assistance, individuals can contact Pat at 0803 442 7622 or Comfort at 0701 380 5937.
In Ibeju-Lekki, the Ibeju Lekki LGA Secretariat in Ibeju Lekki will serve as the collection point. Lateef can be contacted at 07038258052, while Yinka Issa can be reached at 0802 304 1296.
For beneficiaries in Kosofe, the collection point is situated at 40/42 Doyin Omololu Street, APC Secretariat, Alapere. Hon. Odekomaya can be contacted at 08035633060 for further information.
In the Somolu/Bariga area, individuals can collect their food packs from 13, Bariga Road, Adesina Bus-Stop, opposite Olly Supermarket, Bariga. For inquiries, Sharafadeen can be reached at 08035297691.
Senator Tokunbo Abiru has expressed his heartfelt commitment to the welfare of the less privileged members of society. Recognizing the immense challenges faced by many during these trying times, he emphasized the importance of supporting one another and standing together as a community.
The Senator Tokunbo Abiru Food Packs Program not only reflects the spirit of Eid-il-Kabir, a festival of sacrifice and generosity but also demonstrates the Senator's dedication to the well-being of the constituents within the Lagos East Senatorial District. The initiative provides a glimmer of hope and relief to those grappling with the effects of unemployment, disabilities, and other pressing issues.