Kaklistiq.com reports that the dynamic Chairman of Epe Local Government, Princess Surah Olayemi Animashaun, has in a resounding call for unity and collective progress, urged the vibrant youth population of Epe to shift their focus from criticism to acknowledging the strides achieved during her administration.
Taking to her official Facebook platform, @Princess Surah Olayemi Animashaun), she passionately emphasized the importance of patience, as she outlined her comprehensive plans to elevate the prosperity of the town. She cited the recent groundbreaking ceremony of the Multipurpose Hall as a testament to her commitment to the advancement of Epe.
Princess Surah underscored the imperative need for unwavering support from the good people of Epe, particularly the youth, in order to pave the way for progress and unity in the town. She pledged to utilize stakeholder meetings as a consistent platform to render a transparent account of her stewardship.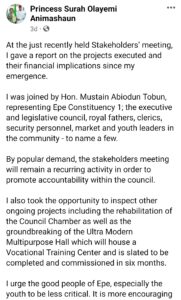 "At the recently concluded Stakeholders' meeting, I provided a detailed report on the projects executed and their financial implications since assuming office. The meeting witnessed the presence of eminent figures such as Hon. Mustain Abiodun Tobun, representing Epe Constituency 1, esteemed members of the executive and legislative council, revered royal fathers, dedicated clerics, vigilant security personnel, market leaders, and dynamic youth representatives," Princess Surah affirmed.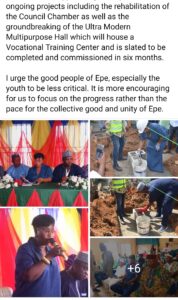 In response to overwhelming demand, the Chairman committed to ensuring that the stakeholder meetings become a recurring event, further enhancing accountability within the council. She also took the opportunity to inspect other ongoing projects, including the rehabilitation of the Council Chamber and the groundbreaking of the Ultra Modern Multipurpose Hall, which is set to house a Vocational Training Center and is scheduled for completion and commissioning within six months.
"I urge the good people of Epe, especially our vibrant youth, to shift their focus from criticism to recognition. It is more encouraging for us to rally around the banner of progress, rather than dwelling on the pace of governance. Together, we shall forge a united and prosperous Epe," Princess Surah passionately concluded, leaving a resounding call for unity and progress echoing throughout the town.