In a significant operation, kakalistiq.com reports that the Lagos State Police Command has successfully dismantled an illegal gun manufacturing factory operating within the Ibeju-Lekki area of the state. Two individuals linked to the illicit firearms production have been apprehended in connection with the case.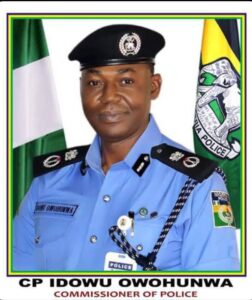 On Thursday, the Commissioner of Police, Mr. Idowu Owohunwa, made the announcement, revealing that the apprehended suspects were cooperating with law enforcement by providing valuable information related to the illegal operation.
The police commissioner elaborated that the operation took place on September 11, 2023, around 4 p.m. Acting on credible intelligence, law enforcement personnel conducted a meticulously planned raid on a blacksmith's shop allegedly involved in the production of firearms intended for sale to criminals in Idata Village, Ibeju-Lekki.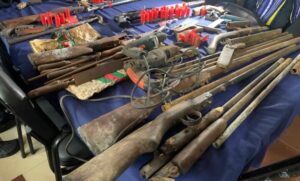 "During this operation, we successfully arrested Musiliu Gbenga, 21, and Owolabi Azeez, 22," Commissioner Owohunwa stated.
The confiscated items from the illicit arms manufacturing site included a significant haul of illegal firearms and related equipment, such as three single-barrel locally-made pistols, one double-barrel locally-made gun, one single-barrel locally-made gun, two single-barrel locally-made long guns, ten expended cartridges, twelve long pipes, two drilling machines, one gas cylinder, one vehicle, and various tools used in the fabrication process.
Additionally, Commissioner Owohunwa disclosed that the police operation led to the arrest of 32 suspects involved in various criminal activities, including product adulteration, armed robbery, theft, and cultism. During these apprehensions, law enforcement recovered 25 firearms, including one toy gun, 74 live cartridges, 12 expended cartridges, 12 long pipes, two drilling machines, one gas cylinder, one vehicle, and other fabricated tools used in illegal activities. The seized items also included two daggers, one UTC axe, various charms, and 251 adulterated wires.
The successful operation of this illegal gun manufacturing facility highlights the commitment of the Lagos State Police Command to combat crime and ensure the safety and security of the state's residents.