In a significant move to combat the alarming rates of illness and death among women, newborns, and children, kakalistiq.com reports that the Executive Chairman of Lekki Local Council Development Area (LCDA), Engr. Rasaki Bamidele Kasali (RBK), is set to kick off the Maternal, Newborn, and Child Health (MNCH) Week in the LCDA.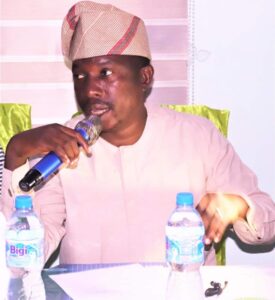 The MNCH Week is a crucial initiative designed to provide essential interventions aimed at reducing child mortality and enhancing the overall health of mothers and children. This life-saving endeavor is scheduled to take place from Monday, November 6th, to Friday, November 10th, 2023.
A wide range of vital services will be offered during MNCH Week, including family planning services for both men and women, vitamin supplementation, malnutrition screening, deworming, growth monitoring, and antenatal and postnatal care services.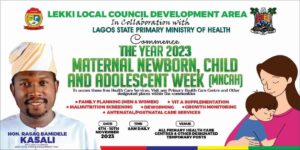 To avail themselves of these critical healthcare services, residents are encouraged to visit any primary healthcare center or other designated locations within their communities. The Chairman, Engr. Rasaki Bamidele Kasali is urging expectant mothers and caregivers to seize this golden opportunity. He emphasizes the importance of visiting nearby health facilities with their wards to reap the substantial benefits of this program.
MNCH Week promises to be a milestone in the ongoing efforts to enhance maternal and child health in the Lekki LCDA. Let us join hands to spread the word and ensure that those who can benefit from this life-saving initiative are well-informed and empowered to take advantage of the services provided.