Ahead of major rehabilitation, road users heaved a sigh of relief as contractors handling the 32-km Ikorodu-Itokin road began palliative works on the road which was constructed close to 5 decades by the military government. It was reported that residents, motorists, and other road users were excited at the ease the palliative works would have on the busy road.
The stabilization of the 32-km Ikorodu-Itokin road, according to road users is critical to the socio-economic development of communities along the road as it connects Lagos, Ikorodu, Epe, and Ibeju-Lekki to other parts of Nigeria.
The project, which was facilitated by the Lawmaker representing Lagos East Senatorial District, Distinguished Senator Mukhail Adetokunbo Abiru, is one of many interventions orchestrated by the former Polaris Bank top brass.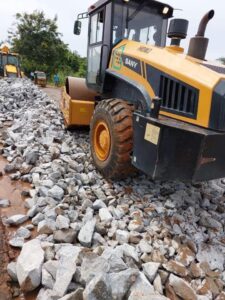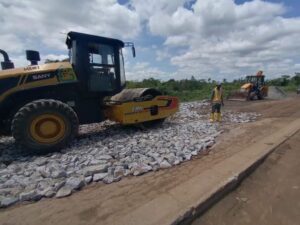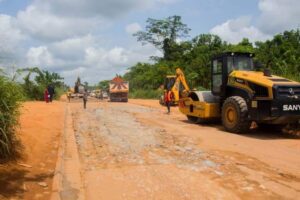 Senator Abiru who expressed serious concerns over the hardship experienced by motorists and residents plying the corridor commended the Contractor for initiating palliative work on the road to alleviate the suffering of residents, commuters, and motorists while awaiting the start of the rehabilitation, which is expected to begin very soon.
The Ikorodu-Itoikin Road was constructed in 1975 by Taylor Woodrow, under the regime of General Yakubu Gowon. This is the first major rehabilitation of the road since it was built almost 50 years ago.
Palliative materials like hardcore rocks, stone-based, and other construction stabilization materials are being applied on failed sections of the road to ease movement. The palliative work had been carried out on critical sections at Itoikin, Agbowa. Construction workers are currently working at Imota, after Parks and Gardens Estate. Before the end of the week, the work is expected to advance to Isiu, Ikorodu North Headquarters. The work will terminate at Sabo, Ikorodu.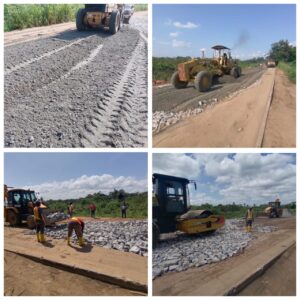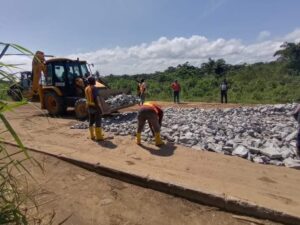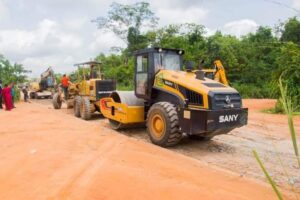 Recall that in April 2021, Senator Abiru raised a motion on the floor of the Nigerian Senate on, "The Urgent Need For The Rehabilitation Of The Ikorodu-Sagamu And Ikorodu-Itoikin- Epe Roads To Further Bridge The Infrastructure Gap And Enhance Economic Growth In Nigeria".
In December 2022, the Lagos East Senator paid a courtesy visit to the Honourable Minister of Works and Housing, Mr Babatunde Raji Fashola, SAN at his office in Abuja to show appreciation for his efforts on two critical Federal roads: Ikorodu- Itoikin Road and Ikorodu/ Sagamu Road.
During the courtesy call, Senator Abiru extended the gratitude of Constituents of the Lagos East Senatorial District to the minister for his efforts over the accelerated construction of Ikorodu- Sagamu Road and the planned rehabilitation of 32-Km Ikorodu-Itoikin Road which had been approved by the Federal Executive Council.