In a resounding victory that echoes across the Lagos political landscape, Hon. Mudashiru Obasa has emerged triumphant in the recent election, securing his place as the people's representative for another term.
As congratulatory messages poured in from every corner of Lagos, it is undeniable that Obasa has left an indelible mark on the progressive fold. With an unwavering commitment to excellence and an exceptional track record, he has elevated the very essence of public service, instilling hope, and transforming dreams into reality.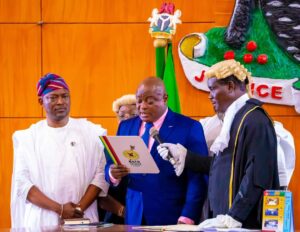 Kakalistiq media reports that it is against this backdrop that Senator Tokunbo Abiru and his wife, Mrs. Feyisola Abiru, filled with an overwhelming sense of pride, have joined millions of colleagues, friends, and associates to congratulate the Agege-born political enigma, recognizing the invaluable contributions he has made to the beloved city of Lagos, forever altering its trajectory towards progress and prosperity.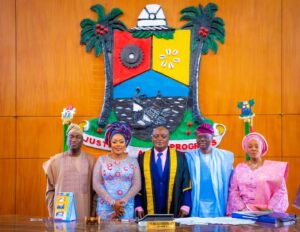 "I heartily congratulate my dear brother, The Honourable Speaker of the Lagos State House of Assembly, Rt. Hon. Mudashiru Ajayi Obasa, on his re-election as the Speaker of the 10th Lagos State House of Assembly.
"Hon Speaker, we celebrate your accomplishments as a quintessential legislator, loyal party man, and astute politician who has demonstrated unusual capacity in the management of the affairs of the Assembly over the last eight years.
"We are proud of the great value you have brought to the progressive fold in Lagos State since 1999 when you started out from your base in Agege. Through the dint of hard work and God's grace, you have become one of the respected leaders of our great party, APC in Lagos, and a member of the prestigious Governance Advisory Council, GAC.
"Mr Speaker, your re-election as the Speaker of the  Lagos Assembly is undoubtedly a vote of confidence on your leadership capacity and also a testament to your appeal as a vibrant grassroots politician.
"On this feat, I join your family, friends, political associates, and well-wishers in congratulating you. I pray that may Almighty Allah continue to guide you as you steer the affairs of the most stable and vibrant House of Assembly in Nigeria. Ameen," the statement read.