In the heart of the glorious Ilara Kingdom, an air of celebration and unity permeates the atmosphere as the esteemed monarch, HRM Oba Dr. Olukayode Olufolarin Ogunsanwo, Telade IV, marks a triumphant three years of leadership.
As the kingdom stands as a testament to the tangible progress and visionary development brought forth under his reign, dignitaries from various spheres besieged the palace to pay homage to a ruler whose exemplary leadership has not only transformed the landscape of Ilara but has also resonated as an inspiring model for other realms.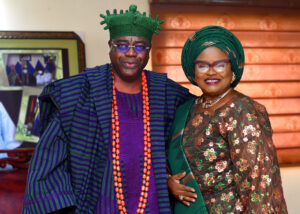 http://kakalistiq.com reports that amidst the festivity, notable figures including former member, House of Representatives, Epe Federal Constituency, Hon. Lanre Odubote; former Lagos State Commissioner for Education, Commerce Industry and Cooperatives and presently Lagos East AllProgresives Congress Vice-Chairman, Barrister Olayinka Oladunjoye, and member, Lagos State House of Assembly, Epe Constituency II, Hon. Sylvester Ogunkelu shared their heartfelt perspectives on the monarch's profound impact, presenting a collective voice of admiration for his remarkable achievements.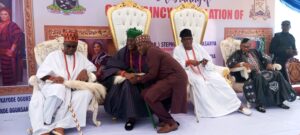 Hon. Lanre Odubote, a respected statesman known for his astute observations, spoke with undeniable admiration for the king. "Oba Olukayode's reign has been a revelation – a journey of transformation that has breathed life into Ilara. His visionary policies and compassionate approach have rekindled the spirit of unity among our people."
Barrister Olayinka Oladunjoye, a legal luminary renowned for her exemplary leadership acumen in Lagos, echoed Hon. Odubote's sentiments. "In the annals of history, certain leaders emerge as guiding lights. Oba Olukayode's leadership style is a harmonious blend of tradition and innovation. He has fostered an environment where progress and culture coexist."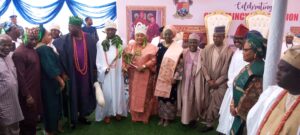 The celebratory symphony also included the harmonious voice of Hon. Sylvester Ogunkelu, a fervent advocate for community development. "Oba Olufolarin's reign has seen the metamorphosis of Ilara into a center of excellence. His commitment to education, healthcare, and infrastructural advancement is a testament to his unwavering dedication."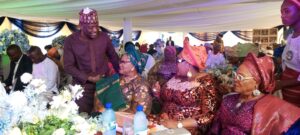 As the jubilation continued, the serene atmosphere of the palace and the sparkling attire of dapper-looking regal personalities and guests served as a backdrop to a grand feast, symbolizing the bountiful harvest of Oba Olukayode's visionary reign. With music and mouth-watery delicacies, the celebration reached its zenith – a fitting tribute to a ruler whose leadership has been nothing short of awe-inspiring.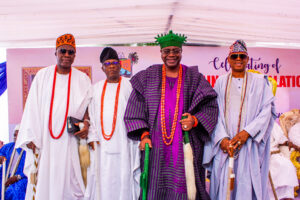 The 3rd anniversary of HRM Oba Dr. Olukayode Olufolarin Ogunsanwo's ascension to the throne was more than a commemoration; it was a testament to a leader's profound impact on a community. Ilara Kingdom stands as a living testament to his exceptional leadership – a tale of transformation, unity, and progress that will continue to resonate through the ages.