…Celebrates Tobun and Sketel's Inauguration
In a remarkable display of respect and unity, High Chief Peter Oriyomi Ogungbesan, the Baale Of Ora Community, Eredo LCDA, Epe Division has conveyed his heartfelt congratulations and gratitude to the newly inaugurated Governor of our bustling metropolitan state, His Excellency Governor Babajide Sanwoolu, his Deputy, Dr Kadri Obafemi Hamzat.
Speaking with Kakalistiq media in Epe on Thursday, June 8, he said that he recognize the weight of responsibility shouldered by the Governor in steering Lagos state towards prosperity and development. He praised the profound impact that his effective governance and strong leadership can have on the growth and well-being of the State and its local communities.
"There is no gain saying that you are indeed a blessing to us in Lagos state, a gift that is worth to be treasured, a valuable being that has affected several lives positively, and a governor whose administration has turned the face of Lagos city into an enviable mega city. We are indeed proud of your season administrator. Kudos to your government and more grease to your palm.
"Having said that, I will like to join millions of Lagos state indigenes to congratulate you on your inauguration as Lagos State Governor for the second term. I pray to God Almighty to be with you in the phase two journey and grant you the knowledge, wisdom, understanding, and strength to take our dear state to a desirable height," he said.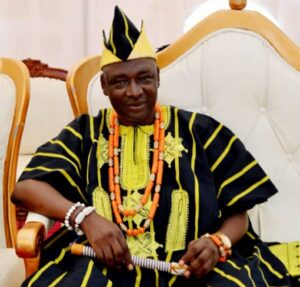 Chief Ogungbesan's intentions extend beyond the political realm, as he seized the opportunity to express gratitude for the installation of new traditional kings who will preside over the diverse Odomola, Odo-Egiri, and Agbowa communities within the cherished Epe Division and Lagos State.
The long-awaited installations, he said, marked a significant milestone in the preservation of the rich cultural heritage, ensuring that the voices and traditions of the ancient communities are represented and upheld.
"Similarly, I will like to express our profound gratitude and appreciation to our Governor, Mr. Babajide Sanwo-Olu, and his Deputy, Dr Obafemi Hamzat for the Staff of Office allotted to three of our Traditional rulers on Epe Division, which are Odomola, Odo-Egiri, and Agbowa metropolis.
"I felicitate with all the newly installed Traditional heads for the opportunity to entrench our beautiful culture and tradition, may God see you all through the journey. We are so grateful to the Governor for such a rare privilege and honor bestowed on us in Epe Division after a long journey to installation. We will not take it for granted," he said.
Chief Ogungbesan, known for his unwavering commitment to the values of unity and progress, also extended his salutations to the newly inaugurated Lagos State House of Assembly members representing Epe Constituency I and II, Hon. Mustain Abiodun Tobun and his counterpart, Hon. Sylvester Oluwadahunsi Ogunkelu.