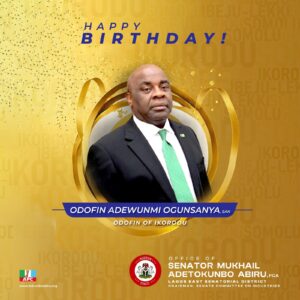 In a world of politics often mired in heated debates and fierce rivalries, one individual stands out as a beacon of camaraderie and celebration. Senator Tokunbo Abiru, a seasoned banker-turned-federal legislator representing the Lagos East Senatorial District, whose resolve to honor and commemorate his political party stalwarts on their birthdays is nothing short of awe-inspiring.
With each passing year, as the calendar turns its pages, the DoingGood Senator's unwavering dedication to recognizing the milestones of his fellow politicians has become a testament to the power of unity and appreciation in the realm of public service.
In Senator Abiru's realm of birthdays and politics witnessed so far, the unique blend of statesmanship and heartfelt camaraderie that transcends the divisive nature of the political arena is more than commendable.
Today, as expected, Kakalistiq media gathered that the Senator celebrates a remarkable icon of peace and philanthropy from the Ikorodu Division and this gesture is worthy of commendation.
"I heartily congratulate my dear brother and friend, Odofin Adewunmi Adedeji Ogunsanya, SAN, The Odofin of Ikorodu, and Chairman Multichoice (DSTV) Nigeria, on the occasion of your birthday. Odofin Erujeje, I celebrate your accomplishments as a successful legal professional who rose to the pinnacle of his career and also extol your outstanding strides in various sectors of the Nigerian economy.
"As an illustrious son of Ikorodu, you have touched many lives by committing your God's giving resources to the upliftment of the downtrodden through the provision of support to the needy. The Ikorodu Division Peace Initiative that you championed has become a rallying point for the revamping of our local security architecture, and scholarship support for students, among many other philanthropic gestures. We are proud of you Odofin," the statement read.
Earlier in the week, it was reported that the Doinggood Snator also celebrated another phenomenal Statesman from Ibeju-Lekki. Dr. Tola Kasali is an All Progressives Congress political juggernaut and two-time Lagos State Commissioner.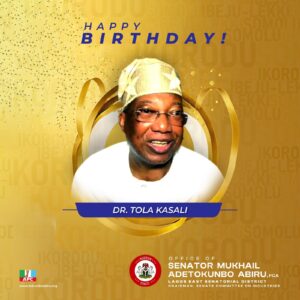 "On behalf of the good people of the Lagos East Senatorial District, I congratulate our leader, and frontline political figure in Lagos State, Dr. Tola Kasali on his birthday. Dr. we celebrate your numerous achievements as an accomplished medical practitioner cum politician.
"The outstanding contributions you made in the development of our dear State when you served as the Executive Chairman of Ibeju Lekki Local Government and later as a two-term commissioner in Lagos State will never be forgotten.
"Sir, I also acknowledge and appreciate you for the unwavering support you and other leaders of our party gave me and other candidates of our dear party at the last general elections. I am most grateful. As you mark this special day, I pray that Almighty God continues to strengthen and give you sound health. Congratulations!" the statement read.
As the confetti settles and the echoes of laughter and well-wishes fade away, one thing remains abundantly clear: the power of celebrating birthdays extends far beyond mere festivities. In the world of politics, where alliances are forged and ideologies clash, the unwavering commitment of Senator Tokunbo Abiru to commemorate the birthdays of his political party stalwarts stands as a testament to the strength of unity and appreciation.
Through these heartfelt gestures, bridges are built, relationships are strengthened, and the spirit of camaraderie prevails over the tumultuous tides of partisan divides. As we bid farewell to this extraordinary tale of birthdays and political honor, let it serve as a reminder that even in the most complex of arenas, a simple act of celebration has the potential to transcend boundaries and ignite the flame of solidarity.