The Rotary Club of Lagos, under the dynamic leadership of Rotarian Joseph Akhigbe alongside District Governor Rotarian Omotunde Lawson with the unwavering support of Dr. Bisi Onasanya, are set to make an indelible mark on the ancient Ilara community as they prepare to commission a block of six rooms and a fully equipped library at Ilara Model Primary School, Eredo LCDA, Epe Division, Lagos.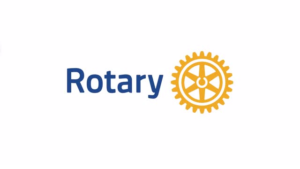 Kakalistiq media reports that the momentous occasion with Rtn. U. K. Eke and Rtn. Hon Olayinka Oladunjoye as the Chairman and Vice Chairman of the Organising Committee, scheduled for 11 am on Monday, June 26th, 2023 promises to be a day filled with joy and celebration as members of the town would be excited to witness such a historic development.
The event will be graced by the presence of His Royal Majesty, Oba Olukayode Olufolarin Ogunsanwo, Telade IV, the Alara of Ilara Kingdom, who will serve as the Royal Father of the Day. This demonstrates the high regard and supports the highly revered custodian of culture and tradition has for the initiative.
Esteemed philanthropist, a former First Bank GroupManaging Director, and Chairman of The Address Homes Limited, Dr. Bisi Onasanya will be present as the Chairman of the occasion and generous donor, further emphasizing the significance of the project.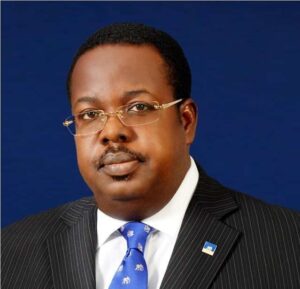 The impact of this initiative cannot be understated. The new block of rooms will provide a safe and conducive learning environment for the students of Ilara Model Primary School, ensuring they have the necessary facilities to thrive. The library, equipped with a vast collection of books and educational resources, will serve as a beacon of knowledge, fostering a culture of reading and intellectual growth within the community.
The benefits of this endeavor will extend far beyond the walls of the school. Education is the foundation upon which a brighter future is built, and by investing in the education of young minds, the Rotary Club of Lagos is sowing the seeds of progress. Access to quality education will empower the children of Igboku-kekere and beyond, equipping them with the knowledge and skills they need to overcome obstacles and pursue their dreams.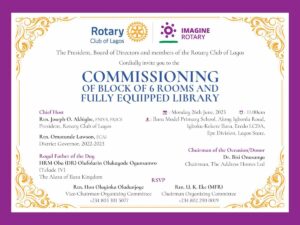 The commissioning ceremony will no doubt be a testament to the power of community collaboration and the transformative potential of education. With the unwavering support of the Rotary Club of Lagos, along with the esteemed presence of community leaders and generous donors, the future of Ilara-Kekere is being reshaped for the better.
As the ribbon is cut and the doors of opportunity swing open, hope and optimism will fill the hearts of the children and their families, heralding a new era of growth and prosperity.
The Rotary Club of Lagos, Joseph Akhigbe, District Governor Omotunde Lawson, His Royal Majesty Oba Olukayode Olufolarin Ogunsanwo, Telade IV, and Dr. Bisi Onasanya have indeed set the stage for a brighter tomorrow, reminding us all of the profound impact we can have when we come together to uplift our communities and invest in the potential of our youth.