In a historic collaboration, the Rotary Club of Epe Metropolitan, Lagos, and the Rotary Club of Oke-Ona, Abeokuta, successfully hosted a two-day joint retreat at Twelve Thirty Hotels in Epe.
Kakalistiq media reports that the event, which took place from Friday, 16th to Sunday, 18th June 2023, brought together passionate Rotarians from both clubs to delve into the significance of Rotary and highlight the vital role of women in the organization.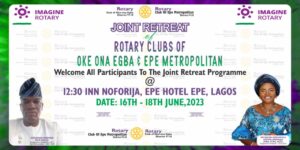 Embodying the principles of Rotary, the retreat commenced with a series of captivating lectures delivered by two esteemed Rotary Club officials, Past Assistant Governors Dr. Hassan and Solu Sotunde.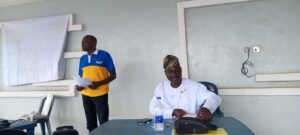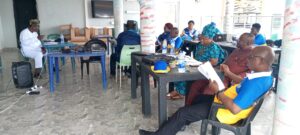 These lectures seek to deepen the attendees' understanding of Rotary's mission and inspire them to contribute more effectively to their communities. The speakers eloquently elucidated the core values of Rotary, emphasizing the importance of fellowship, service, and ethical leadership.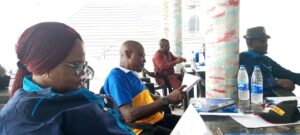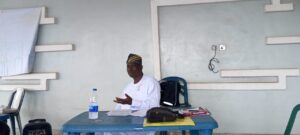 One of the highlights of the retreat was the focus on empowering women within Rotary. Recognizing the invaluable contributions of women, the lectures shed light on the pivotal roles they play in driving positive change. The discussions explored strategies to further empower and elevate women in Rotary, encouraging their active participation in decision-making processes and leadership positions.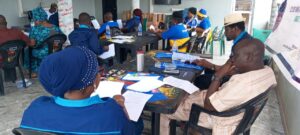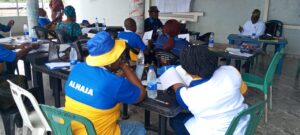 The presidents of both Rotary clubs expressed their delight at the resounding success of the retreat. Rotarian Osifeko Mark, the Imaginative President of the Rotary Club of Epe Metropolitan, lauded the event as a groundbreaking achievement for their club.
He stated, "This joint retreat has set a remarkable precedent for collaboration between the Rotary clubs. We are immensely proud to host such a significant event and foster meaningful connections with our fellow Rotarians from Oke-Ona, Abeokuta."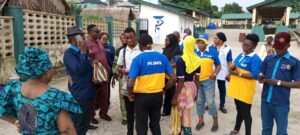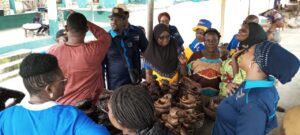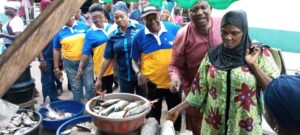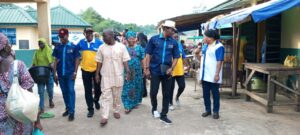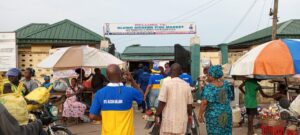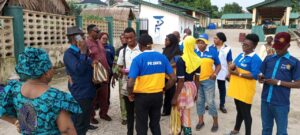 Similarly, Rotarian Modupela Onanuga, Imaginative President of the Rotary Club of Oke-Ona, Abeokuta, commended the retreat for its inclusive and empowering nature. She said, "We are thrilled to be part of this momentous occasion. It is a testament to the unity and shared values of Rotary. The discussions on the role of women have been particularly inspiring, and we look forward to implementing these insights in our club."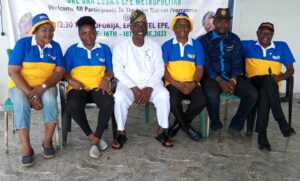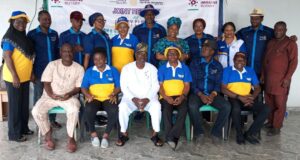 In addition to the enriching sessions, the attendees had the opportunity to explore the historical landmarks of Epe. They embarked on a fascinating tour of Epe town, visiting the ancient colonial edifice at Oke-Oyinbo, which stood as a testament to the region's rich heritage. The vibrant Oluwo Fish Market showcased the area's thriving economy and served as a reminder of the importance of sustainable development.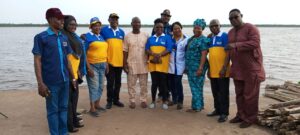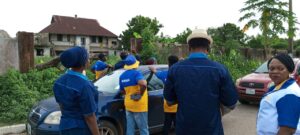 Kakalistiq media reports that the two-day joint retreat catalyzed renewed enthusiasm among Rotarians, fostering deeper connections and equipping them with invaluable knowledge to lead transformative change in their communities. As the retreat ended, participants expressed their gratitude for the enlightening experience and the lasting bonds forged during this momentous event.