The graduation ceremony for Teenagers in the STEM for SSS Cohort 2 at the SAIL Innovation Lab was filled with inexplicable joy as parents, guardians, and students expressed their gratitude to Distinguished Senator Mukhail Adetokunbo Abiru and his wife, Feyisola, co-founders of the SAIL Innovation Lab.
Kakalistiq.com reports that Senator Abiru emphasized the importance of knowledge-seeking and commended the students for their dedication to the fields of science, technology, engineering, and mathematics (STEM).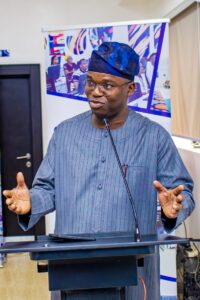 During his speech, Senator Abiru highlighted the achievements and resilience of the Cohort 2 students, acknowledging their essential skills and critical thinking abilities developed throughout their STEM education journey. He also announced the expansion of the STEM program to public schools in Lagos East, demonstrating their commitment to equal opportunities for aspiring young minds in STEM education.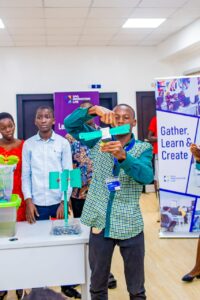 The Senator expressed delight in the students' exploration of physical computing, robotics, and artificial intelligence, showcasing their creativity and innovation. He also expressed gratitude to the faculties and organizations involved in the success of the STEM program, including STEMCafe and CCHub.
Senator Abiru encouraged the graduating students to embrace collaboration, diversity of thought, and a shared vision for a better future. He emphasized the students' role as catalysts of change, pioneers of progress, and champions of inclusivity, urging them to use their skills to bridge gaps and create a world where everyone can thrive.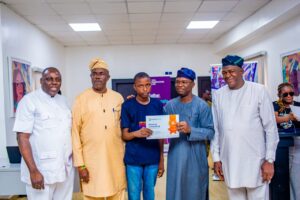 The event was attended by various dignitaries, including Dr. (Otunba) Saheed Oladapo Ibikunle, Special Adviser to the Senator on Constituency Matters, and Mr. Deji Abisola, Consultant to the Senator on SAIL Innovation Lab, among others.
Parents and students, such as Alhaji Saheed Adeoye, Mr. Efe Eruotor-Pat, Mrs. Ogunbowale Christiana, and Dr. Abiodun Fatai-Abatan, expressed their appreciation to Senator Abiru and his wife for establishing the SAIL Innovation Lab, emphasizing its inclusivity and pan-Nigerian mindset.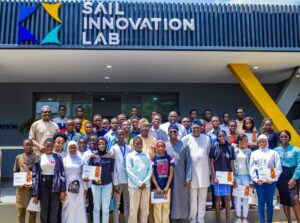 SAIL Innovation Lab, founded by Senator Abiru and his wife, commenced operations in 2022 at their Constituency office while construction of the permanent facility was underway. The lab's permanent site, located at 1, Muba Abiru Street, was generously provided by the Abiru family for the project. Independent Trustees of the SAIL Empowerment Foundation now oversee the project.
Senator Abiru and his wife, as co-founders, endowed the lab to provide young people in the Lagos East Senatorial district with opportunities to learn tech and digital skills, essential in the fourth industrial revolution. Cc-Hub, a renowned African innovation and tech company, serves as the technical partner, managing the SAIL Innovation Hub on behalf of the Trustees.