In a laudable effort to boost education at the grassroots level and support the educational goals under Governor Babajide Sanwo-Olu's THEMES+ agenda, Kakalistiq.com reports that HRM Oba Abidemi Toheeb Yissa-Oyedele, Oyetu-1, the Onimedu of Orimedu Land, recently donated a substantial quantity of chairs and desks to Community Junior High School Orimedu. This community-driven initiative aims to complement government endeavors in enhancing grassroots education.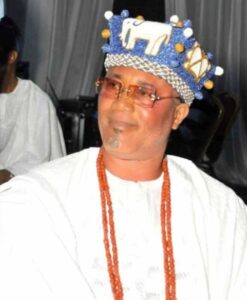 Accompanied by Chief Babatunde Lamidi, the Aro of Orimedu Land, as well as the Community Development Association (CDA) chairman, Parent-Teachers Forum (PTF) chairman, and youth representative, the generous donation was presented on Friday, November 10, 2023.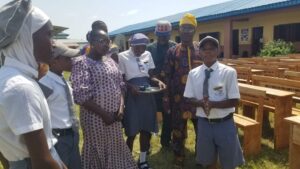 Among the dignitaries present at the occasion were Chief Babatunde Lamidi, the Aro of Orimedu Land; Mrs. Ononuga, Vice Principal of O.C.J.H.S.; Hon. Mubdi Abisola, CDA chairman; Mr. Aliasau Issa, PTF chairman; and Mr. Femi Azeez, the secretary of the Orimedu Youth Wing.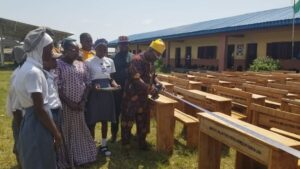 HRM Oba Toheeb's benevolent act followed a recent visit to the school, where he discovered the need for additional chairs and desks to accommodate students in three empty classrooms, thereby creating a more conducive teaching and learning environment.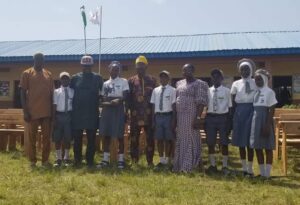 Addressing the gathering, Chief Babatunde Lamidi emphasized the monarch's unwavering dedication to elevating his kingdom and ensuring it stands out among neighboring communities.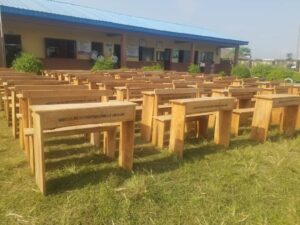 "His Royal Majesty's steadfast commitment is a beacon, elevating our kingdom and setting us apart in the tapestry of neighboring communities," he stated.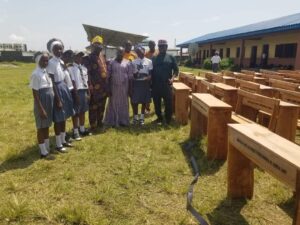 Expressing heartfelt gratitude, the recipients hailed Oba Toheeb's considerate gesture and offered prayers for the continued prosperity and peaceful reign of His Royal Majesty on the throne of his forefathers.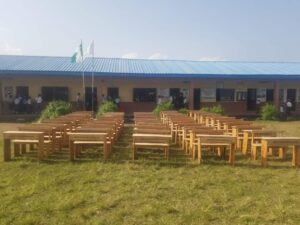 The benevolent act of HRM Oba Abidemi Toheeb Yissa-Oyedele reflects a commendable commitment to advancing education in Orimedu. The donated chairs and desks are not just physical assets but also symbols of community collaboration to enhance the learning environment for the students.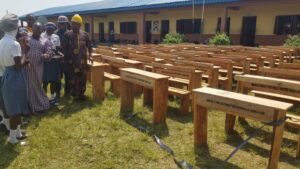 With Chief Babatunde Lamidi underscoring the monarch's unwavering dedication, this gesture aligns seamlessly with Governor Babajide Sanwo-Olu's THEMES+ agenda, emphasizing collective responsibility in uplifting education at the grassroots. The Orimedu community expresses gratitude, anticipating continued progress under the benevolent reign of HRM Oba Toheeb Yissa-Oyedele.