In a spirited celebration of Nigeria's independence and Rotary's unwavering commitment to community development, kakalistiq.com reports that the Rotary Club of Epe Metropolitan organized a vibrant hangout, uniting young people to foster harmony, networking, education, and fun.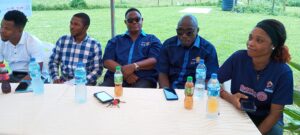 This dynamic event took place on Saturday 14th October 2023 at the picturesque Granjero De Bauer Park, Red Roof, Araga Poka, Epe, Lagos State. It was an integral part of Rotary's annual tree-planting initiative and basic education/literacy month, offering an exciting platform for networking and connection.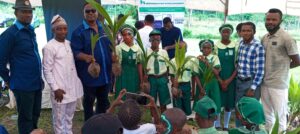 Notable attendees at the program included the Education District Tutor-General/Permanent Secretary, Dr. Idowu Oyetola, who was represented by Mr. Oreoluwa Kehinde from the Epe Zonal Office. Barrister Kazeem Adewale, Prince Kunle Yusuf, Mrs. Abimbola Olaleye, and the esteemed Rotarian Mark Osifeko graced the event.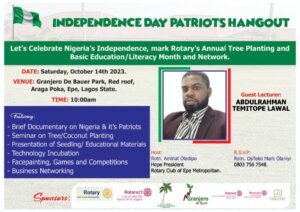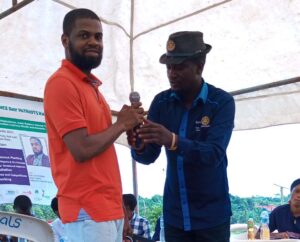 Others in attendance were Mr. Ayanwole and Mr. Idowu from Lagos State University of Education, Epe Campus, alongside dedicated teachers, local farmers, passionate Rotaractors from MOCPED and YABATECH, and enthusiastic students from Army Children, Pobuna, Odomola, Odo-Obara, and St. Patrick's junior secondary schools.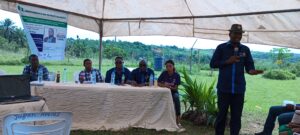 Rotarian Mark Osifeko, the immediate past president of the club, welcomed the attendees with warmth and enthusiasm. He remarked, "Today, we gather to celebrate our beloved country's independence and to champion vital causes that resonate with Rotary's core values."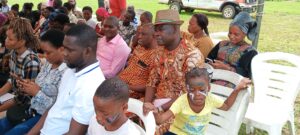 President Prince Kunle Yusuf shared the significance of the event, emphasizing its importance for the nation's growth and development. The audience resonated with the need for such programs to instill patriotism, education, and the spirit of nationhood.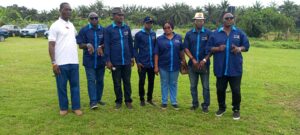 A key highlight of the event was a seminar on tree and coconut planting delivered by the knowledgeable guest lecturer, Mr. Abdul Rahman Lawal. He emphasized the importance of cultivating, rather than merely hunting, as a means to secure prosperity in the agricultural food chain. Mr. Lawal also highlighted the vast potential of the coconut planting business, encouraging all to explore these opportunities.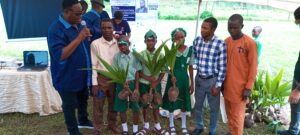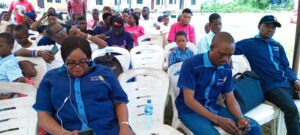 The event featured diverse activities, including an interactive session, technology incubation, and business sessions. Attendees enjoyed physical games such as tug of war, "fill the bottle" races, dance competitions, and more.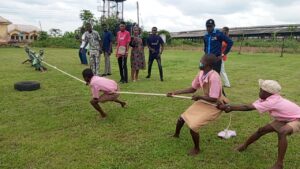 In a symbolic gesture, the invited schools and the guest lecturer were presented with five seedlings of the dwarf coconut species. These seedlings serve a dual purpose – to promote tree planting and harness the economic benefits of coconut cultivation.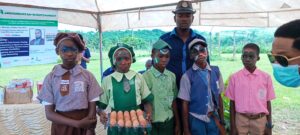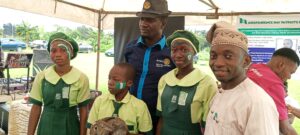 The event, designed to foster the spirit of patriotism and nationalism among Nigeria's diverse young population at primary, secondary, and tertiary levels, was a resounding success. It encapsulated the spirit of unity, education, and nation-building, resonating with the values that Rotary holds dear.